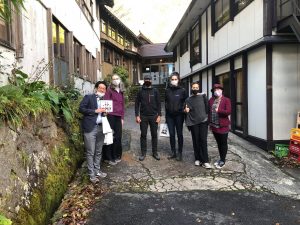 During a weekend in mid-October, Jarman International CEO Ruth Marie Jarman along with four JI Core 50 members headed to Yonezawa city in Yamagata Prefecture as part of a monitor tour. This year, Jarman International is becoming more involved in helping people discover the incredible beauty of Yonezawa city, located a little over 2 hours from Tokyo by train. 
One of the places the JI team first visited in Yonezawa was the over 200-year-old Namekawa Onsen, which uses the hydroelectricity generated by the nearby Maekawa River. Here, you can dip into the open-air hot spring bath surrounded by the lush nature of the Azuma mountain range for a full rejuvenation of your mind and body. 
Yonezawa is also well-known for their beautifully marbled, sweet, fatty and melt-in-your-mouth beef, which you definitely won't want to miss during your visit! 
Learn more about Yonezawa: https://all-yonezawa.jp/en/