Jarman International Team is Ready to Serve
CEO Ruth Marie Jarman grew up in the multi-cultural paradise of Hawaii. As a child, she spent a year in Edinburgh and has been hooked on "international" adventures ever since. Ruth received a BA at Tufts University in International Relations and came immediately to Japan to enter Recruit Co., Ltd. in 1988. At Recruit Ruth created the Recruit Seagulls Cheerleading team and was the first cheerleader inducted into the Seagulls American Football Hall of Fame in 1993. Ruth received her Japanese language proficiency level 1 certification in 1994 and achieved her Takken (宅地建物取引士)  Japanese real estate license in 2006.
---
Yumiko Horigome joined the JI team in 2015. She has been involved in numerous customer and various project support engagements.
Currently, she is also in charge of core operations such as finance, accounting, and legal. She is involved in the management of our company, both internally and externally, with a focus on meticulous communication.
She studied abroad in England for three years. She has also used her English skills to support various events and manage product development projects for overseas markets and has gained an understanding of the differences in culture and business between Japan and other countries.
---
Austin Auger has 45 years of Commercial and US Government business experience and works with Jarman International clients as an expert on US business entry, US Military contract bidding, training on the US, European, and other country business and communication cultural differences, and overall business development.
Born in Japan, raised in the US, and has traveled and worked in numerous countries on six out of the seven world continents, Austin brings deep experience and understanding of international business to the JI Team. Austin worked with the American Chamber of Commerce in Japan, is the Japan Representative Director for two major US firms in the energy industry, and as a former US Marine, maintains close ties with the US Military.
---
Akane Oikawa is an experienced director, managing international medical conferences and seminars held in Japan.She also worked as an assistant manager at the public relations section of an English conversation school and secretary.
Akane is highly effective at supporting our partners with her excellent communication ability and a broad point of view derived from her work experience in various industries.
---
Takae Ayukawa has had a successful work history with international corporations and education facilities. Her various professional experiences include customer service for a foreign airline (based in a foreign country) as well as work at hotels, in public relations for a tourism association, and was acting secretary for the Japan office in a foreign city. Takae also has taught at a technical college.
Takae has a treasury of valuable work experiences that allows her to be a bridge between Japan and foreign countries across several different business fields. Always conscious of the needs of customers, she excels in areas of hospitality and communication.

---
Chiara Terzuolo brings her expertise in online content creation to the Jarman Team. With more than 10 years in Japan and extensive knowledge of the European and American markets, Chiara will enhance the online presence for Jarman clients. As the former Marketing Manager for Japan, Asia and Oceania at the travel booking site Veltra and Editor in Chief of All About Japan, Chiara combines her marketing experience with years of writing, editing and consulting for both online and print media. From SEO to social media content creation, Chiara will help all Jarman clients find the perfect tone and style for their message.
Chiara has also written a book with important insight into Tokyo's plant-based diet options – the Tokyo Vegan Guide helps vegan and vegetarian residents and visitors enjoy a stress-free experience in Japan's capital. Catering to the diverse needs of international travelers to Japan is important to Jarman's efforts to help Japan become a more welcoming place for all visitors. Chiara is also an opera singer, speaks five languages (English, Italian, Japanese, French, and Dutch) and enjoys learning about local sake.
---
Hana Victoria Shiraishi leads the social media effort and online strategy at Jarman International. She organizes outreach to international Facebook communities to raise awareness about compelling Japanese content in an efficient and effective way. Hana uses her well-rounded understanding of social media and global perspective on both Western and Asian cultures as a bicultural representative of the influential Generation Z.
She is also passionate about songwriting, video creation and production on YouTube, as well as a wide range of social issues such as LGBTQ+ topics and environmentalism.
---
Originally from the UK, Paul has lived and worked in Japan for more than 25 years, including 20 years as Managing Editor of GetHiroshima, an online English language guide targeting international travelers and residents. Since founding his own inbound tourism consulting company, JizoHat, he has worked as a professional advisor where he helps destinations around Japan get ready to welcome international visitors and with their inbound marketing, promotion and branding efforts.
In order to ensure the sustainable creation of high quality information, Paul publishes content that makes international travelers want to visit a given destination after first clarifying the type of visitor each place seeks to attract and gaining an understanding of their respective values. Paul's recent project experience includes developing touristic activities related to trail running and cycling, which he also enjoys on his days off. He is also active as a domestic content advisor focused on cycling tourism, including the Shimanami Kaido, for which the market is growing, particularly in Europe, the US, and Australia.
---
A native of England, Adam Fulford has been working as a language consultant in Japan since 1981, offering behind-the-scenes support for Eigo de Shaberanaito, Eigo de Asobo, Super Presentation and many other NHK programs. These days, he and his staff work on a number of shows broadcast in English on NHK WORLD-JAPAN, the international service of NHK. Adam also works as a presentation coach, supporting the efforts of the Japan National Tourism Organization to have more venues in Japan selected as hosts for international conferences.
For the past decade he has been active as a cross-cultural consultant who places a special emphasis on the value of regional Japan. Adam firmly believes that traditional values combined with a modern mindset can offer any community, ranging from the smallest village or company to the largest metropolis or megacorporation, a robust framework for cultivating happiness, sustainability, and resilience in an increasingly unpredictable world.
---
After graduating from university, Ayaka spent a year studying in Canada where she immersed herself in a multicultural environment. Upon returning to Japan, she worked as an editorial intern at GetHiroshima before helping to establish the inbound tourism consulting agency, JizoHat, a year later.
Ayaka's current role is creating strategic visual content for social and print media. In her hometown of Hiroshima, she speaks at seminars and other events on the topic of multiculturalism, and is also involved in planning and running events as a local coordinator tasked with fostering connections among international residents and locals. During the current COVID-19 pandemic, she also started working as an online tour guide to more fully understand the needs and perspectives of inbound tourists.
---
Masako Suzuki has had experience as a president's secretary, has worked in human resources departments as well as general accounting jobs in company administration departments.
Masako is also familiar with the development and operation of professional systems from her experience as a system engineer at a software development company.
---
Emi Onishi brings over one decade of experience in project management and in liaising with customers and staff involved with R&D, QA, and production, during which she cultivated the interpersonal and communication skills required for effective negotiations.
After graduating from university in 1997, Emi became an interpreter and translator for the Kyoto Prefectural Governor. Since 1998, she has held managerial posts in international sales with several Japanese companies including Kyocera, Omron and Saki Corporation.
After Japan's 2011 March earthquake, Emi worked as an administrative assistant at Toshiba Corporation US Project Team for Fukushima Restoration. She gained her B.A in English from Doshisha University in 1997 and studied at UCLA in an exchange program in 1995-1996.
---
Kiyoko Kudo has a degree from Aoyama Gakuin University and was an AFS Exchange student in high school, and stayed in PA, US.After graduation from university, Kiyoko started a career at Morgan Stanley Tokyo and has over 20 years of operations experience with trade support and customer service in both Japanese and English.
In her free time, she enjoys going out for meals with her husband.
She's also been a huge fan of Japanese pop music artist Hideaki Tokunaga for over 30 years. Kiyoko loves playing golf and going to Japanese Onsen hot-springs. Her favorite place in Japan is Tochigi prefecture where she loves to golf. Kiyoko is helping Jarman's growth in the golf tourism sector.
---
Andrea Negosanti is a Social Media Specialist that helps small and big companies to express themselves effectively through social media. Andrea also helps businesses build and improve their overall engagement across all editorial plans. Originally from Italy.
Andrea is also the owner of an Italian Facebook page about traveling to Japan. Andrea has earned the status of 'influencer' as he has now built up an audience of more than 360,000 followers from across the globe.
---
Sarah Achilles has a 20-year career in international relations, translation and consulting. She has a solid background in advising and working with both Japan-based businesses and global companies doing business in Japan. Sarah's expertise is in translation, editing and global communication which she has applied to needs across a wide range of industries. Sarah's projects have had a particular focus on tourism, hospitality, and marketing.
Sarah brings to the Jarman team extensive experience supporting international residents in Japan, in particular women, and a wide network of connections in the Tokyo business community.
At Jarman International, Sarah's key role is to support clients with their strategic marketing, event planning and promotion activities. She also supervises and provides advice on translation and creates and edits niche content to help Japanese companies expand their reach and services to the international community in Japan and beyond.
---
After working as a textile designer, she studied abroad in New York for four and a half years, graduating with a degree in interior design, and completed a summer course in golf course and clubhouse design at Harvard University Graduate School of Design, where she became convinced of the difference in learning styles between Japan and other countries.
After returning to Japan, she has 26 years of experience in Sales & Marketing to the leisure, corporate, and MICE markets as the Japan office representative for a Hong Kong-based hotel company operating in Asia.
She took the initiative to serve as the chairperson of the Japan Philippine Tourism Council (JPTC) and was a powerful seminar and event planner and presenter.
Recently, she also assisted the Belgian Embassy Walloon Region in the preparation of events, expanding her global eye.
---
David has 40 years of experience working in the contracting industry (both commercial and government) and in the US military. He has worked extensively in International Business Development and International Operations and was previously the Director of Sales at CB&I (former Shaw Group), a 12.9 billion-dollar engineering and construction firm specializing in government contracting and oil and gas infrastructure development. He was also with Kellogg, Brown & Root (KBR) working international contracts. He was formerly a combat engineer and logistics officer having served 20 years in the U.S. Marine Corps and retired as a Lieutenant Colonel.
David currently works as a private consultant and has worked extensively in the Middle East, Africa, Asia, Latin America and as a Project Manager in Afghanistan. His specialties include: Executive Management, International Business Development and International Operations; Proposal and Project Management; Engineering and Logistics, Facilities Operations and Maintenance (O&M), Remote Base Camp Services; Construction Management; Contingency and Emergency Management; Transportation and Aviation Support Services.
---
Louise George Kittaka is a bilingual writer, content developer, university lecturer and cross-cultural specialist from New Zealand. She brings more than 25 years of experience in the media and publishing industry to the Jarman team.
Louise's work appears in a wide variety of domestic and international English media platforms, including as a regular columnist and features writer for the Japan Times. She was the first foreign national to be a full-time employee at leading educational publishing firm Benesse Corporation, and has contributed to numerous EFL textbooks, exams and study materials for the Japanese market over the years. She also conducts cross-cultural training programs for families leaving or arriving in Japan on corporate assignments, and lectures in the comparative studies department at Shirayuri Women's University in Tokyo.
Louise has a BA in Japanese from Waikato University (New Zealand) and an MA in Intercultural Studies from SUNY Buffalo (USA).
---
Emika Mori is in her final year studying English at Dokkyo University in Saitama Prefecture. At Jarman International, she helps write social media content for a variety of client Facebook pages such as Visit Kochi Japan, Hotel & Residence Roppongi, Coconoma Season Dining, and more.
Based on her love of meeting diverse individuals, learning about new cultures, and sharing homemade delicious treats with others, Emika dreams of one day traveling all over the world on a café van.
---
Nako is a driven and culturally diverse individual with a passion for business administration and international management. Born in Tokyo in 2003, she embarked on her academic journey at Rikkyo University in 2021. Her dedication to her field led her to specialize in International Management Theory, a decision that was reinforced by a year-long exchange program in the Netherlands, starting in the summer of 2022. This experience not only honed her language skills in both Japanese and English but also deepened her understanding of multilateral marketing, globalization, cross-cultural communication methods, and strategic human resource management.
In 2023, Nako joined Jarman International and has been contributing her skills and knowledge as the Community Manager for the JI Core 50. Her international exposure and academic background make her a valuable asset for our team.
---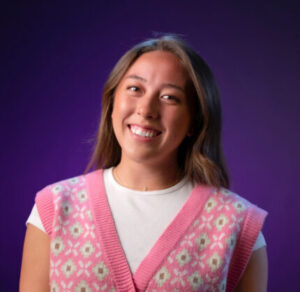 Nina stands as a symbol of unity between two worlds, being half Japanese-American and embodying the rich cultures of both nations. Currently enrolled at the Savannah College of Art and Design, she's dedicated to refining her artistic and technical skills. Although she speaks English fluently and is progressing in her command of Japanese, her dual heritage inherently forms a bridge between the US and Japan, making her a valuable asset to any international venture.
During her internship at Jarman International, Nina played a pivotal role in web design and content creation, broadening her expertise and sharpening her insights into effective online strategies. This hands-on experience bolstered her skillset, equipping her with practical knowledge in navigating the digital world.
In 2023, Nina took a significant step in her career by officially joining our team as a Content Specialist. Her focus on social media solidifies our commitment to aiding clients in disseminating their brand stories on various SNS platforms. With Nina's support, clients can look forward to enhanced communication strategies that resonate with diverse audiences, fostering understanding and engagement across borders.
---
John moved to Japan in 1998 and lived in 16 different cities around the country. John has visited all 47 prefectures and hitchhiked Japan from Wakkanai, Hokkaido to Kagoshima in 2003. John has run in the Tokyo Marathon, enjoys scuba diving, and is a food lover!
John publishes a new video on his livestream sub-channel "ONLY in JAPAN * GO" (more than 288,000 subscribers) every 7 to 10 days, brought to you from interesting locations all around Japan. Over the course of his almost 10-year YouTube career, John has covered hundreds of stories about the depth, beauty, and fun of Japanese culture, food, people, and history, helping connect Japan to the world. "ONLY in JAPAN * John Daub" has been John's main channel since 2020, and has already accrued a following of more than 189,000 subscribers, which continues to grow every day!
He is also a NHK World reporter (Tokyo Eye, Destination Kansai, Journeys in Japan) and a regular inbound news contributor on TBS Hiruobi.
Awards: The 1M subscribers on YouTube award, top 100 YouTube Creators in Japan, NHK World reporting job
---
Gen Shiraishi is an advisor at Jarman International KK and a consultant at
Bain & Company
in Washington, D.C.
Gen provides advisory support to Jarman International based on management consulting experience across multiple industries and functions (e.g., M&A support in aerospace and defense, sales force transformation in tech distribution), as well as over 20 years of experience living in Japan as a Japanese-American.