Nationality: New Zealander
Time Living in Japan: 20 years
Employer: Boston Consulting Group
Current Job Title: Translator, Editor
Areas of Expertise: Public Relations, Business Strategy, Event Planning, Japanese-to-English Translation, Editing, Marketing Support, International Relations
Education: Bachelor of Japanese Language, Christchurch Polytechnic Institute of Technology (2000)
Favorite Thing About Living in Japan: The constant stimulation and opportunities provided by an ever-changing big-city environment and diverse Japanese and international community.
Favorite Place to Visit in Japan: Kansai, in particular, Kyoto.
BIO: Born and raised in Christchurch, New Zealand, Sarah has lived and worked in Japan for a total of 20 years in Osaka, Nagano, Yokohama and now Tokyo. She currently works at a leading global management consulting firm as an in-house translator and editor, with previous experience in international relations, global PR and community event planning.
With a passion for women's empowerment, Sarah served on the Board of FEW: For Empowering Women in Japan between 2013 and 2018, first as Membership Director, followed by Vice President and President where she strived to provide women of all nationalities, professions, and backgrounds with a supportive space for learning and connection through the sharing of stories, skills, and authentic dialogue.
In addition to being an effective consultant and communications specialist around Japan, Sarah is also a member of Australia and New Zealand Chamber of Commerce in Japan and Japan Association of Translators. In her spare time, she can be found traveling around Japan, exploring Tokyo's restaurant scene, markets, and neighborhoods, learning about (and eating) all types of Japanese food, matcha and sake.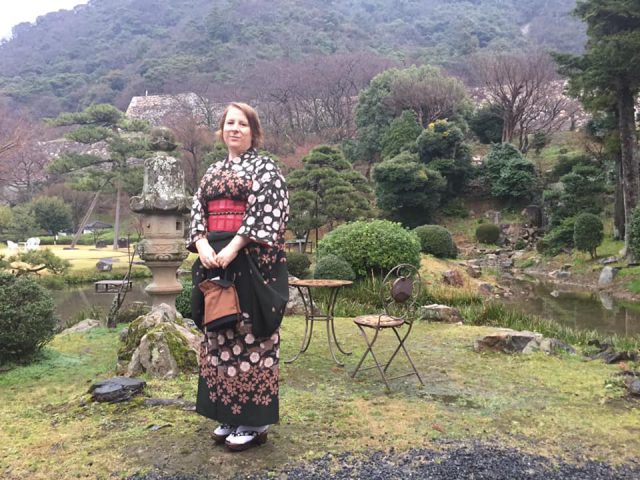 Consulting Trip to Tottori Prefecture:
In March, I was fortunate to visit Tottori Prefecture for a memorable four day consultancy monitoring trip. Tottori is known primarily as home to Japan's largest sand dunes, offering spectacular views and a host of adventure activities such as paragliding or sandboarding.

I was impressed, however, to find that Tottori has so much more to offer, from mouthwatering beef, seafood, sake, historical Japanese spa hot spring towns as well as quaint traditional streets. I was especially captivated by the trips to the former castle towns of Tottori as well as impressive dramatic scenery along the Uradome Coast.

Tottori is the perfect off-the-beaten track escape from Tokyo or when travelling in the San'In area. I will definitely visit again!