Jarman International aims to connect Japanese companies with the non-Japanese end user. The number of overseas visitors is expected to reach 60 million annually by 2030 and the number of internationals living in Japan is already more than 2.5 million. We expect more and more people to seek employment in Japan and we hope to support Japan's efficient and proactive response to these challenges.
CEO, Ruth Marie Jarman (author of six books on Japan) and her team believe this is the new and ready market for every Japanese business, government agency and local municipality. With almost 30 years of experience and the Core 50 consulting group, Jarman can help you in developing strategy on how to better access and satisfy the international client. Jarman International is ready to assist with training, marketing, promotion, review and implementation on strategies to help leverage this new market. We believe a successful effort towards the international inbound market must be a win-win for all parties and we see creating this win-win as our primary core competence.

At Jarman International, we're constantly looking for ways to connect new people, businesses and organizations within Japan and abroad.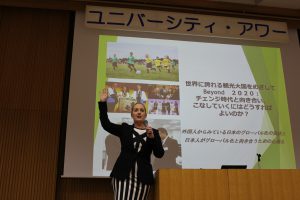 Stay informed on the latest activities of the JI Core 50 and check back for regular updates about Ruth Jarman's speaking engagements around Japan.