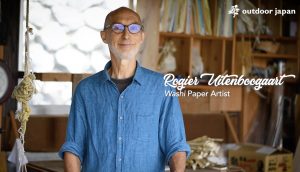 Jarman International has been supporting the owner of Kamikoya Washi Studio in Kochi Prefecture, Rogier Uitenboogaart, who has been hand making traditional Japanese paper ("washi") for 40 years. In August, Kamikoya was featured in a beautiful video by Outdoor Japan about locals in Kochi who base their work on a sustainable philosophy; to live in harmony with nature. 
Making paper has a very strong connection with nature. We try to lower the impact on the rivers or the waters we are using so we don't use any chemicals. We started to grow our own fibers. When you're doing that, you really get in the rhythm of nature; of seasons – Rogier Uitenboogaart
Check out the video below to learn more and make sure to follow @outdoorjapan on all social media pages for incredible content about traveling in Japan!
Sustainable Summer Escapes in Kochi, Shikoku