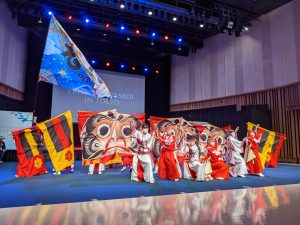 The Yosakoi Festival is one of Japan's largest festivals, known for its diverse dance styles, vibrant costumes, and upbeat music ranging from traditional Japanese folk tunes to pop, rock, and salsa-inspired rhythms. It originated in Kochi Prefecture nearly 70 years ago, as a way to improve the health and prosperity of locals after WW2 and major earthquakes. This Kochi dance has always been about having fun, rather than following strict rules, which is why you will see a wide range of costumes, choreography, and music.
For the first time, after almost two years of event cancellations due to the pandemic, Yosakoi dance teams from across Japan and the world were able to come together for Premium Yosakoi in Tokyo on July 4, 2021, for a special online performance. 
Yosakoi dance is a universal language. Regardless of gender, age, skill level, race, disability…once you hold naruko (hand clappers), we are all one – Seiji Hamada, Governor of Kochi Prefecture
All-inclusive, ever-changing, cheerful, and a little bit of wild…it seems Yosakoi is precisely the kind of joy and passion the world needs right now. 
The rebroadcast of the livestream performance will be available on the Premium Yosakoi YouTube channel until July 22, 2021. Don't miss it!
Limited Rebroadcast of "Premium Yosakoi in Tokyo" LIVE / 限定見逃し配信「プレミアムよさこいin東京」
You can also experience the beauty of this event through an incredible poem written by Jarman International JI Core 50 member, David Lohrey:
Local festival goes global—
Especially good dancers proudly wear ribbons
awarded by the judges, if not the Gods.
There's an overall winning team each year. Dance companies
are formed out of thin air, around the world, from Nice
to Saitama, Rio De Janeiro to Timbuktu. Kenya, Paris,
Taiwan, too. Even Alabama, with a banjo on her knee.
A festival is really a way for a town to bare its soul
— show the world what it's made of.
Yosakoi displays the quintessential character of Kochi City –
it's loud, gaudy, cheerful, ever-changing and irreverent,
with the women of the town definitely front and centre.
You'll never see the same Yosakoi twice, and you'll definitely
never see a dull one.
Contagious joy provides a wonderful antidote to grief-stricken world.
Dance cures all….a festival of joy spreads around the world.
Once only local, Yosakoi dancing functions today as an ambassador
of good will, bringing a tradition of welcome and adaptability; it is
a YMCA of local aesthetic and traditions. East meets West, a chance
to dance to one's own music, toot one's own horn, kick up a storm.
Yosakoi dance festivals allow people to do their own thing.