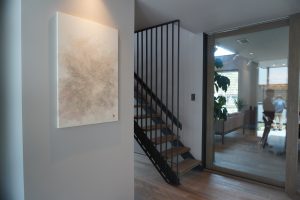 Jarman International has been supporting the work of Rogier Uitenboogaart who arrived in Japan 40 years ago from the Netherlands, to learn the ins and outs of making traditional Japanese paper called washi. In 2006, Rogier started his own Kamikoya Washi Studio (かみこや) located on the slope of the Shikoku Karst Mountains in Yusuhara, Kochi Prefecture, becoming a true master of the craft. Today, Kamikoya is also a guesthouse, which offers visitors an opportunity to experience washi-making themselves, surrounded by the serenity and grace of Kochi's countryside.
In early June, three of Rogier's works were chosen as interior decorations for the opening ceremony of a new model house for Futagami, one of Kochi's leading construction companies, which also operates DIY shops, car supply stores, and more. 
Rogier's washi-making process is an almost entirely handmade craft. He uses a variety of plants such as the bark of mulberry trees and vegetable okra in a very sustainable way, where nothing is fully wasted. Although the conversation around sustainable living is becoming more common, it feels quite rare to actually find aspects of this lifestyle implemented in our day-to-day. However, the selection of Rogier's environmentally friendly artworks by a large corporation seems to be a step of hope and possibility in the right direction.
Read more about Kamikoya: https://visitkochijapan.com/en/activities/10158
Rogier's Official Website: http://rogier.jp/