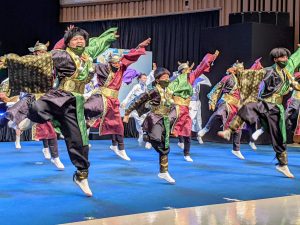 On July 4, 2021, Yosakoi dance teams from across Japan and the world came together for a special online performance, which was livestreamed via their Premium Yosakoi in Tokyo YouTube channel.
It was an immense success with hundreds of Yosakoi fans tuning in from all over the world!
One of our Jarman International Core 50 writers, Vicki L. Beyer, also published a beautiful article on her blog, Jigsaw Japan, sharing her impressions of the festival, its inspirational history, massive national and international impact, as well as evolution over time.
The broadcast of the livestream will be available online only until July 22! Sit back, relax, and let the energy of Yosakoi fill you with joy and hope.
Limited Rebroadcast of "Premium Yosakoi in Tokyo" LIVE / 限定見逃し配信「プレミアムよさこいin東京」
More about Yosakoi:
The Yosakoi Festival is one of Japan's largest festivals, known for its diverse dance styles, vibrant costumes, and upbeat music ranging from traditional Japanese folk tunes to pop, rock, and salsa-inspired rhythms. It originated in Kochi Prefecture nearly 70 years ago, as a way to improve the health and prosperity of locals after WW2 and major earthquakes. This Kochi dance has always been about having fun, rather than following strict rules, which is why you will see a wide range of costumes, choreography, and music.
You can also read the article by Metropolis magazine HERE.