Nationality: American-Australian
Time Living in Japan: Nearly 30 years
Areas of Expertise: Japanese Employment Law and Employment Practices, Corporate Governance, finding fun and interesting travel destinations in Japan, promoting in-bound tourism
Education: BA, MA, JD, LLM
Publications Featured In: SavvyTokyo, Metropolis, Japantoday.com, ACCJ Journal, HR Agenda
Favorite Thing About Living in Japan: Always something new to learn or explore.
Favorite Place to Visit in Japan: Kamakura
BIO: Vicki is a professor of law and former in-house employment/corporate lawyer. She is also a freelance travel writer who has been writing about exploring Japan for a decade, capitalizing on nearly three decades of experience living and traveling in Japan. She's particularly interested in the relationship between people and places, both historically and currently. From mid-2018, Vicki was appointed as a "Cool Ota-ku Ambassador" (a/k/a Global City Ota Ambassador) to aid Tokyo's Ota Ward (where she lives) in its efforts to promote international tourism in the area.
Recently Published Work
 "Ladies and the Law: Japanese court cases where women have made a   difference", a series of short articles for Savvytokyo.com
"Brewing UP Success: A Modern Woman in a Time-Honored Occupation", Number 1 Shinbun, December 2017
"The best way forward: Flexible working arrangements benefit women in the Japanese workplace," Eurobiz Japan (November 2016)
Monthly travel articles for Japantoday.com

Articles for Metropolis
---
Vicki Beyer went on a consulting trip for Jarman International to one of Japan's richest cultural heritage destinations, Kanazawa.
As a history lover, I find Kanazawa to be a fascinating place.  On my most recent visit, in addition to enjoying the experience of Kaga Yuzen dyeing, I spent a day enjoying Kanazawa sightseeing and exploring the city using machi-nori bicycles. 

First I rode along the Asano River to reach the Kanazawa Gold Leaf Museum. I learned so much from the exhibits at the museum, and also from visiting a nearby workshop. 

Then I meandered through Higashi Chaya and enjoyed an excellent lunch in one of the "tea houses". Next, I bicycled to Oyama Shrine, with its unique front gate. Finally, I rode to the Naga-machi Buke-yashiki Samurai district.  Since it had started to rain, I popped into a couple of the museums of that area and was fascinated by the artifacts there.

There is so much to explore in Kanazawa. I hope I can return again soon!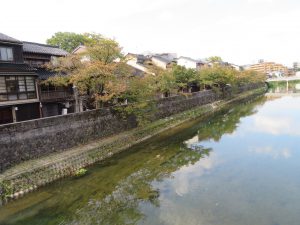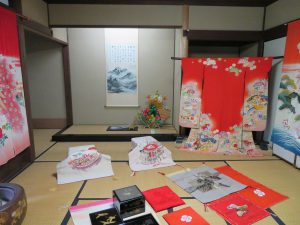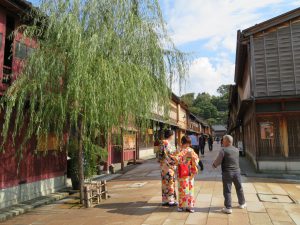 ---
Articles about my experience: