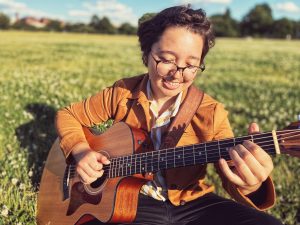 Hana Shiraishi manages Jarman International's Facebook page, and assists with other creative work including graphic design and video editing. She is passionate about music, and has been writing original songs for about 4 years, publishing them on her Hana Victoria YouTube channel along with self-produced music videos.
Now, her newest album, "Sketchbook", which includes 5 songs, can now be streamed via Spotify, Apple Music, and all other online platforms (under artist name "Hana Victoria")!
You can read about the album concept by Hana below:
I have come to see this life and world as something like a sketchbook; always ongoing and unfinished but absolutely beautiful. The olive tree that stands bold and brave, our incredible gift of imagination, the messages of hope and love we can find in the aqua blue sky, the way we inspire each other through creativity, how human connections can transcend languages…"Sketchbook" is about seeing the absolute beauty in this imperfect world. Ultimately, it is about my love of being alive, and my dream is that this album encourages even one other person to feel the same way.
Stay tuned for more original music to come, and we hope that you feel a little more inspired, empowered, and encouraged through her songs!