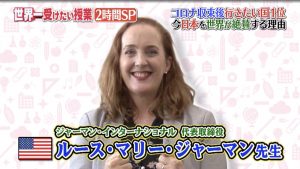 On June 12, Jarman International CEO Ruth Marie Jarman made her second appearance on the beloved TV Show (Nippon TV channel) called "Sekaiichi Uketai Jugyou (The Most Useful School in the World)".
During the show, Ruth shared with us 20 possible reasons why Japan has been voted as the number one country international travelers (particularly from Asia) want to visit after the pandemic. What makes Japan so unique compared to the rest of the world?
From Japan's punctual trains, cleanliness, polite manners, creative innovations, and more, Ruth shared some of her "only-in-Japan" findings based on her 30-year-experience working and living in Japan.
If you happened to miss the broadcast, no worries! Click the link as follows for free online streaming until June 26: https://tver.jp/corner/f0076509
"Sekaiichi Uketai Jugyou" (The Most Useful School in the World) official website (Japanese): https://www.ntv.co.jp/sekaju/