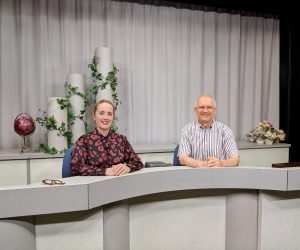 On July 14, 2021, Jarman International CEO Ruth Marie Jarman and JI Core 50 member Adam Fulford collaborated on a project to create 10 short videos for one of Jarman's partners, MS&AD Holdings, that each highlight a different aspect about Japanese and international cultural differences. 
Based on their decades-long experience (combined 73 years) living and working in Japan, Ruth and Adam share insightful information to help everyone in the company come together as they journey in a newly globalized world, in a fun and engaging way.
If I were to describe today's shoot, I would use the word, "historic". It felt very historic to be in the studio at one of the world's largest companies with Adam, sharing our personal challenges, surprises, and observations functioning within the intricate culture of this inspiring country. Everyone in the room shared a mutual feeling that we were achieving something very meaningful. All great change starts with a small catalyst, and today, I think for all of us, was that catalyst to help move Japan forward in this incredibly exciting age of globalization.

– Ruth Marie Jarman
As travel becomes more accessible and Japan starts to welcome internationals from all over the world again, there is a need to help both parties understand that differences exist, so that everyone can hold empathy in their hearts, and ideally, arrive at a hybrid approach that collaborates the best of both cultures.