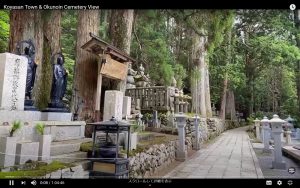 Our CEO Ruth Jarman went on a business trip to Osaka last month with famous YouTuber John Daub, Jay Ponazecki, and Austin Auger of our JI Core 50 members.
Some of them stayed at a little ryokan at Amami station on the way and others in the group stayed at a Station house hotel by Nankai in Koyashita station. They took a Nankai Line train between Nankai-Namba (Osaka) and Koyasan (Wakayama). It was such a great trip to spend a peaceful moment by taking local trains compared with using a plane or bullet train (Shinkansen).
★Check the video made by John Daub at "ONLY in JAPAN * GO" : Koyasan Town & Okunoin Cemetery View
When it comes to "travel," as typified by the package tours, people tended to go sightseeing efficiently, as much as they could in the limited time, however, it seems that the current trend shifts to the style that people prefer to the travelling style of "slow, calm, and with families and friends (in the small group)." And also, long-term residents who haven't traveled around Japan (especially to the small towns and villages) until now will try to do sightseeing instead of traveling to foreign countries and rediscover the charm of Japan.
Although it was just a part of 2-day business trip covered Kansai area and we could stay Koyasan not that long, this trip brought us a great realization of the new traveling style in the new normal era.
We definitely recommend to go to Koyasan at the first onset of new traveling style!
★You can check the members who went to Koyasan with from here;
・John Daub
・Jay Ponazecki
・Austin Auger
★We took Nankai Line to Koyasan: NANKAI (Official Website)