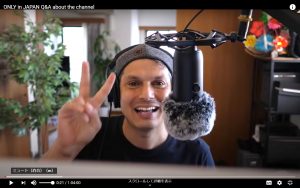 Have you subscribed to John Daub's new channel, "John Daub * Only in Japan" yet?
The number of subscribers has been increasing and now it's reached 50,000 since the channel launched in June!
★To subscribe to John's new channel, please click this link here: "ONLY in JAPAN * John Daub."
But WHY did he say goodbye to his old channel that had over 1.5 million subscribers from all over the world?
Our press release on Japan Times will tell you why John has started his new channel, and we are positive that you would like his new channel more by learning about his passions for his channel, his viewers, and his respect to Japanese history and culture with people.
★For more details, please visit "Japan Today" via the link HERE.
★John's a part of the JI Core 50 Team! Take a look at his Profile HERE.