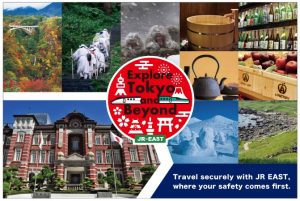 We are thrilled to announce that JR EAST will be selling a special limited "JR EAST Welcome Rail Pass 2020" which will be available to all foreign passport holders (regardless of visa status) starting from October 16, 2020 until February 26, 2021.
What's so special about JR EAST Welcome Rail Pass 2020?
Until this point, JR Rail Passes have only been available to tourists visiting Japan. JR EAST created this new, foreign resident-friendly pass to give members of Japan's international community a budget-friendly way to explore the Tohoku and Kanto regions, and provide an alternative to international travel.
This pass will allow holders 3 consecutive days of unlimited travel on the Tohoku, Yamagata, Akita, Joetsu and Hokuriku Shinkansens, along with JR EAST train lines and a number of local railways. As it is valid for a large area of Japan, pass holders will be able to explore from the northernmost reaches of Aomori Prefecture to the hot spring resorts of Shizuoka Prefecture, just south of Tokyo, for a flat 12,000 yen fee (6,000 yen for Children).
---
Jarman International will be assisting JR EAST with the promotion of this exciting new pass, including collaborating with John Daub, the popular YouTuber and creator of the ONLY in JAPAN channel. We hope to showcase the sights, cuisine and culture of regions covered by JR EAST Welcome Rail Pass 2020, and encourage expats to discover sides of Japan they never knew existed.
★For more information about the JR EAST Welcome Rail Pass 2020 and where to purchase it, please check out: JR EAST Welcome Rail Pass 2020
★The article about this exciting new pass has been published on JAPAN TODAY 
★To subscribe the John's channel, click the link here for more incredible content co come!: ONLY in JAPAN * John Daub