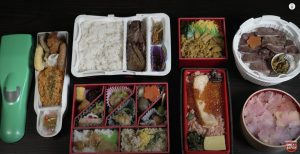 Ekiben are Japanese gourmet boxed lunches that are sold at train stations for you to enjoy during your Shinkansen ride. It is a quintessential Japanese experience that you cannot miss if you're ever here!
But you might wonder…Which one should you choose? What are the kinds of ingredients you'll find in an ekiben?
In this ultimate Ekiben adventure, popular YouTuber and JI Core 50 John Daub will take you on the special Tohoku Destination Campaign Fukkou Shinkansen (more on this below), all the way from Tokyo to Shin-Aomori station, while introducing  7 gourmet ekiben, including those that feature delicacies like uni sea urchin and ikura salmon roe.
Check out the video below!
Japanese Gourmet Train Food | Shinkansen Bento Adventure ★ ONLY in JAPAN
★ Subscribe to John's main channel for more incredible content: ONLY in JAPAN * John Daub
★ Also, check out John's recent livestream where he looks back on his trip on the Tohoku Destination Campaign Fukkou train. This livestream was shot at the Japan Rail Cafe in Tokyo station, where you can stop by for lunch or coffee before your ride, purchase tickets or great souvenirs, and more! –  Tokyo Station to Tohoku on the Shinkansen | Live at Japan Rail Café
★ For more regular content, please subscribe to John's live streaming channel, ONLY in JAPAN * GO
~ The Tohoku Destination Campaign – 10 Years Since ~
It has been 10 years since the Great East Japan Earthquake devastated much of the Tohoku region, located in the northeastern portion of Japan's mainland. As a way to help assist in the region's recovery, one of our partners, East Japan Railway Company, has begun the Tohoku Destination Campaign since April, which will last until September 30. Why not take this opportunity to travel to Tohoku and discover its beauty?
★ Tohoku Destination Campaign Official Website