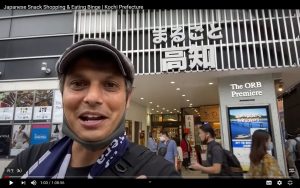 Jarman International had the honor of supporting Kochi Prefecture in our ongoing promotion project by amplifying Marugoto Kochi, an antenna shop located in central Tokyo. During the Covid-19 period when the ability for people to actually travel to Kochi is limited, a way for internationals living in Japan to get a "taste" of Kochi and learn about this incredible prefecture is via this cute little shop near Yurakucho station. This is one of the ways Jarman is trying to bring destinations to more people virtually so they can think about an actual trip later on!
John Daub, one of our expert Core 50 consultants and super-famous YouTuber, did 5 livestreams about different aspects of Kochi Prefecture.
One of the livestreams here is about various local delicacies from Kochi, such as special teas and snacks flavored by Yuzu, ginger, etc., and you can check the video for your reference of Kochi's souvenir lists!
Please check his livestream:『Japanese Snack Shopping & Eating Binge | Kochi Prefecture』
Japanese Snack Shopping & Eating Binge | Kochi Prefecture
We hope many more people in Japan and around the world can feel closer to this beautiful and remote location via these types of innovations.
---
★"Marugoto Kochi" is an antenna shop where you can purchase various local delicacies from Kochi Prefecture, and is conveniently located in Ginza, Tokyo. If you live in Tokyo or surrounding areas and you have been to or would like to visit to Kochi, you can teleport yourself there simply by setting foot in Marugoto Kochi!
★Please SUBSCRIBE to John's ONLY in JAPAN * John Daub main channel for more incredible content!
★For more information about Kochi, please see the link: Visit Kochi Japan