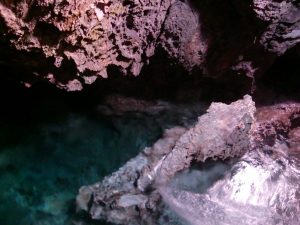 In late November, during her trip to Iwate prefecture, JI Core 50 member Vicki L. Beyer visited Ryusendo, one of the three largest limestone caves in Japan, which is a designated National Natural Treasure.
Ryusendo is also known as the "cave of the dragon's spring" perhaps due to the underground river that pours out of the mouth of the cave, which makes for a mesmerizing, magical view.
The cave is so large that it is still being explored nearly a century after formal surveys first began. It is at least five kilometers long, but also has substantial vertical portions, including at least eight known underground lakes, the deepest of which is 120 meters (the deepest underground lake known in Japan). There are also other, smaller pools, deep water sections of the river, including the "pool of long life" just inside the mouth of the cave. (Farther into the cave, there is a "spring of long life", too.)
---
Important announcement for all non-Japanese passport holders! For travel to Tohoku, we recommend you take advantage of the JR EAST Welcome Rail Pass 2020!
Until now, JR Rail Passes have only been available to tourists visiting Japan. However, this year, JR EAST created this new, foreign resident-friendly pass to give members of Japan's international community a budget-friendly way to explore the Tohoku and Kanto regions, as well as provide an alternative to international travel.
This pass will allow 3 consecutive days of unlimited travel on the Tohoku, Yamagata, Akita, Joetsu and Hokuriku Shinkansens, along with JR EAST train lines and a number of local railways. As it is valid for a large area of Japan, pass holders will be able to explore from the northernmost reaches of Aomori to the hot spring resorts of Shizuoka, just south of Tokyo, for a flat 12,000 yen fee (6,000 yen for Children).
★For more information about the JR EAST Welcome Rail Pass 2020 and where to purchase it, please click HERE
★An article about the pass has been published on JAPAN TODAY