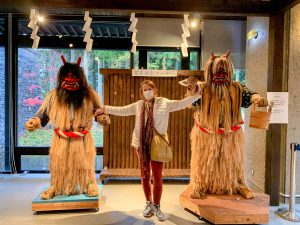 In mid-November, JI Core 50 member Sarah Achilles travelled to Akita Prefecture in the northeastern Tohoku region, which is sometimes referred to as the 'Land of the Namahage'. In Japanese folklore, namahage are trolls or oni (demons) that scare little boys and girls so they behave well. This tradition is still carried out on New Year's Eve, when locals dressed up in straw capes and hefty masks go around the neighborhood, warning children not to be lazy or naughty.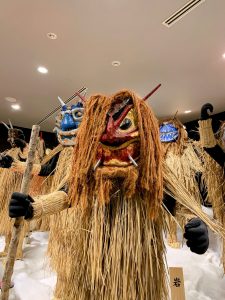 Recognized as a UNESCO Intangible Cultural Heritage, these ogre-like demons are also believed to chase away bad luck and evil spirits with their loud presence, thus, serving as frightening symbols for children but welcome visitors for grown-ups. During her trip, Sarah had the opportunity to learn all about these cacophonous trolls at the Namahage Museum, where she saw a display of over 150 masks curated from different villages in the area.
The masks, some of which are still used today, were donated by local residents, and are made out of materials ranging from bamboo sieves covered with paper mache to chunks of cedar wood with hemp and horsetail for hair.
Another highlight of the trip included a visit to the 800-year-old Dairyu-ji Temple where Sarah enjoyed a freshly-brewed cup of green tea surrounded by the beautiful Japanese garden glistening in autumn colors.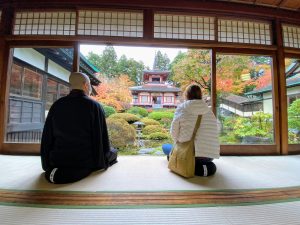 The inside of the temple is also just as interesting, boasting a magnificent golden dragon painting on the ceiling, old wooden and metal Buddhist figurines atop the altars and along the halls, and giant bells that reverberate for what seems like forever. As a working temple, the main hall holds hundreds of Buddhist altars that local families can come to remember their deceased loved ones, and serves as the venue for various ceremonies, art shows, lectures, yoga classes, weekend mindfulness retreats, and more.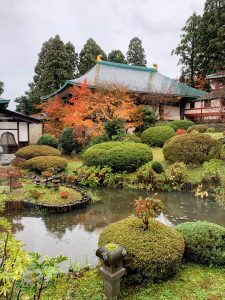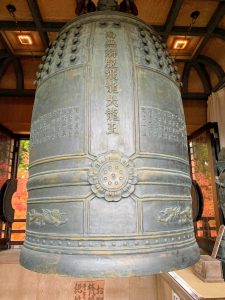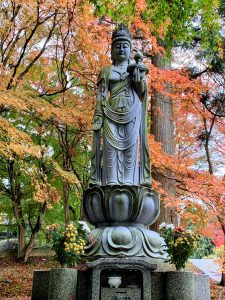 Other memorable visits included Nyudosaki Lighthouse (ranked as one of 50 best lighthouses in Japan), Oga Aquarium GAO, Unosaki Kaigan Park (home to one of the 100 best beaches in the country), and more. The Tohoku region is also famous for its delicious cuisine, such as kiritanpo (cooked rice that is pounded, skewered and roasted), hatahata (Japanese sandfish), and ishiyaki nabe (stone-cooked hotpot), all of which Sarah had the opportunity to taste during her trip.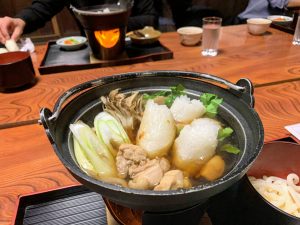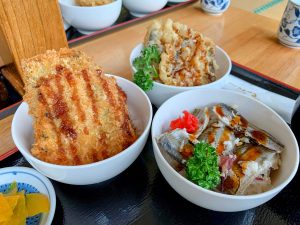 Overall, I thoroughly enjoyed my two days in Oga Peninsula. Everyone I came across was friendly and welcoming, and eager to share their facility, history, and culture with visitors from abroad. Blessed with so much breathtaking scenery, mouth-watering cuisine, and rich traditions, I highly recommend the Oga Peninsula as a must-visit place for anyone traveling to Tohoku. I know that I will definitely visit again.