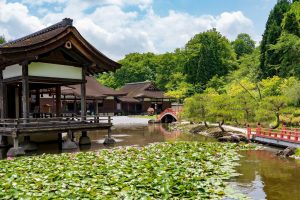 Although many of Tohoku's beloved summer festivals have been cancelled or scaled down due to the pandemic, there are infinite ways to still have fun in this incredible northern region of Japan. 
Visit Esashi Fujiwara Heritage Park in Iwate, a historical theme park also known as "Tohoku's Hollywood", where you can find 120 buildings that perfectly reproduce the architecture from the Heian period (794-1185). A true time travel experience! Or head to Fukushima to see incredible only-in-japan field art, which has been carefully created by growing nine varieties of rice to make different shades of color.
Read the Japan Today article HERE written by Jarman's team member Chiara Terzuolo, for further detail on celebrating summer in Tohoku.