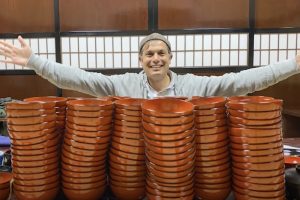 Japanese cuisine is no stranger to noodles, and YouTuber John Daub has travelled all across Japan to taste its countless varieties. Brought to you live from the Japan Rail Cafe in Tokyo station, John will introduce some of his most memorable noodle adventures from his travels in the Tohoku region (northeastern Japan). 
From wanko soba and cold reimen noodles to miso milk curry ramen, check out the video below and step into the vast, flavorful world of Japanese noodles!
Stay tuned until the end of the video and learn all about the Michinoku trail from JI team member Chiara Terzuolo, which is an incredible hike that hugs the Pacific coast of Tohoku.
Japanese Gourmet Ramen & Noodle Travel | Live from Tokyo Station (Updated)