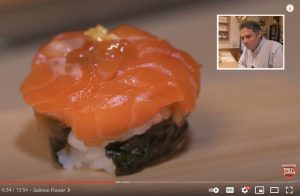 Did you know that there are actually many styles of sushi?
Besides the usual varieties like sashimi, rolls, and nigiri, there is one you have probably never heard of called saiku sushi. These consist of maguro tuna shaped like beautiful Japanese Camellias, pieces of fresh squid meticulously designed into rabbit shapes, cuts of salmon twirled to look like petals of a blossom, and many more!
What is the history of saiku sushi? How is it made? Does it taste different from regular sushi?
Learn all about this new type of sushi in popular YouTuber, John Daub's new episode on his ONLY in JAPAN * John Daub channel below:
Tokyo Sushi Chef's Food Art | Saiku SUSHI Story ★ ONLY in JAPAN
★Please subscribe to John's main channel for more incredible content: ONLY in JAPAN * John Daub
★For more regular content, please subscribe to John's live streaming channel, ONLY in JAPAN * GO
★Click HERE to see the official website of Takasago sushi featured in this video (Japanese)