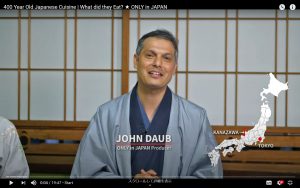 The well-known Youtuber and our partner, John Daub has released his new episode about Kanazawa!
The episode introduces "Traditional Bushi Banquet Cuisine" which is about 400-year-old Japanese cuisine and includes the stories that may not be known to even Japanese people or those who are well-acquainted with Kanazawa.
400 Year Old Japanese Cuisine | What did they Eat? ★ ONLY in JAPAN
At your first opportunity, we highly recommend this video for collecting information for your next trip, and it would be great if you put Kanazawa on the top of your bucket list to see there with your own eyes and to feel cultures in Kanazawa for real!
★To subscribe the John's channel, click the link here: " ONLY in JAPAN * John Daub."
★John's a part of the JI Core 50 Team! Take a look at his Profile HERE.