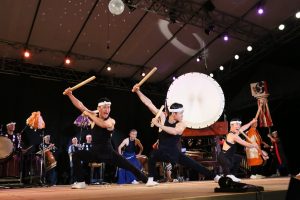 It's time for the Taiko (Japanese Drum) Festival!
KODO is one of the best taiko troupes in the world and every year since 1988, they've hosted a three-day music festival held on Sado Island called the Earth Celebration (EC).
This year, the event is taking place ONLINE for free through a livestream on the Earth Celebration YouTube channel from August 21st to the 23rd!
The theme for this new EC look is "Connect with the World on Sado Island."
---
Earth Celebration 2020 ONLINE
■WHEN: August 21st to the 23rd
■WHERE: Online Event
Main Program: "Earth Celebration Channel"
7 hours streaming (from 2 pm to 9 pm) for 3 days in a row
■Programs: Timetable is available from HERE.
■COST: Free!
There are also other events such as "EC Online Market," "Online Workshops," that will be held!
Please enjoy this wonderful 3-day "Connecting to the world from Sado!" music festival!
★Don't forget to SUBSCRIBE to the Earth Celebration YouTube channel below and stay tuned★
The Earth Celebration YouTube Channel
★For more information about Earth Celebration, please visit their official site here: Earth Celebration
---
One of Japan's top YouTubers, John Daub, recently interviewed the team behind this year's Online 2020 Earth Celebration to talk about all the amazing taiko performances and content that will be streamed during the three-day music festival!
A Music Festival that isn't Canceled in Japan | EARTH CELEBRATION 2020 | ONLY in JAPAN * GO