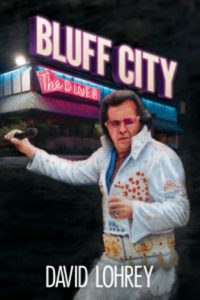 Our JI Core 50 members continuously help our business partners by conducting inspections, surveys or writing articles for Inbound private companies and local municipalities. It never ceases to amaze us on how talented our 50+ JI Core members are!
David Lohrey, an active and candid writer, is one of them.
He has already published four books throughout his writing career, and we are pleased to inform our readers, his latest book Bluff City has been released on August 21st!
David Lohrey, a longtime contributor to Terror House Magazine, made his Terror House Press debut last month with Bluff City, an anthology of his best short stories and poems. This includes several pieces published for Terror House Magazine from 2018 to 2020. Lohrey's work highlights critical points of America, peculiarities of the American South, his experiences teaching in the U.S., Saudi Arabia, Japan and much more.
---
Now available on Amazon: Bluff City
You can contact David and buy his book from him directly: https://davlohrey.wordpress.com/
Also available through the publisher: Terror House Press
---
For more information on Lohrey's work, visit his website, HERE. Read excerpts from Bluff City, HERE. Also, check out his past work published by Terror House Magazine, HERE.
★You can check the David's profile here: David Lohrey