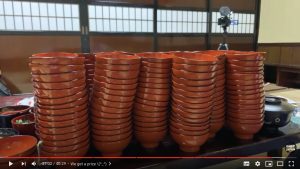 Jarman International has been assisting with the promotion of the new JR EAST Welcome Rail Pass 2020, which is available for all non-Japanese passport holders in Japan to purchase (regardless of visa status).
As part of our promotional effort, JI Core 50 Consultant and popular YouTuber John Daub used this rail pass to travel around Tohoku and introduce the region's culture, food, and history, to his viewers tuning in from all over the world.
In one of his livestreams, he attempted the all-you-can-eat wanko soba challenge, which is a traditional buckwheat noodle dish from Morioka City, Iwate prefecture. The challenge is to quickly eat one-bite servings of the soba noodles and get your small bowl refilled repetitively until it is impossible to eat anymore.
How many bowls do you think John managed to eat? Watch the video below to find out!
Japanese Extreme Noodle Challenge | Wanko Soba (Morioka)
---
What is the JR EAST Welcome Rail Pass 2020?
Until now, JR Rail Passes have only been available to tourists visiting Japan. However, this year, JR EAST created this new, foreign resident-friendly pass to give members of Japan's international community a budget-friendly way to explore the Tohoku and Kanto regions, as well as provide an alternative to international travel.
This pass will allow 3 consecutive days of unlimited travel on the Tohoku, Yamagata, Akita, Joetsu and Hokuriku Shinkansens, along with JR EAST train lines and a number of local railways. As it is valid for a large area of Japan, pass holders will be able to explore from the northernmost reaches of Aomori to the hot spring resorts of Shizuoka, just south of Tokyo, for a flat 12,000 yen fee (6,000 yen for Children).
★For more information about the JR EAST Welcome Rail Pass 2020 and where to purchase it, please click HERE
★An article about the pass has been published on JAPAN TODAY 
★Please subscribe to John's channel for more incredible content: ONLY in JAPAN * John Daub