On November 5, 2020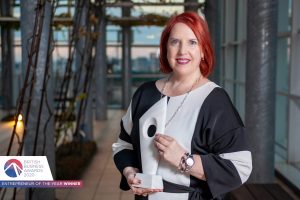 , JI 50 Consultant Catherine O'Connell was named Entrepreneur of the Year at the British Business Awards, hosted annually by The British Chamber of Commerce in Japan.
Originally from New Zealand, O'Connell founded her own boutique, commercially-savvy, flexible New Law firm, Catherine O'Connell Law, in 2018. She has cumulated 17 years of work experience in Japan, and 10+ years of private practice experience in New Zealand.
When the pandemic hit this year, O'Connell began getting involved in webinars for a variety of chambers of commerce in Japan, and collaborated with legal specialists to deliver insights on legal topics that helped business owners and entrepreneurs amidst the pandemic. O'Connell has always demonstrated a strong entrepreneurial spirit through her actions, and was awarded a marble BBA trophy at the 13th annual gala celebrating UK-Japan ties.
I'm ecstatic to win this award," she says, adding that she sees the symbolism in its material. "The word 'marble' derives from the Ancient Greek 'shining stone'; that's what I want to be: sparkling, solid and well-rooted … to help others to succeed.
Click HERE to read the rest of the article.
A heartfelt congratulations to Catherine O'Connell!