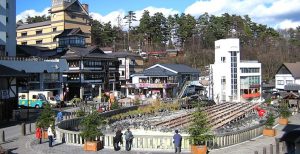 As my husband urges our car up the mountainside, I am lost in thought looking out the window at the scenery. It snowed overnight, so the roadside and the buildings we pass are all covered in round pillows of white. Fortunately, the road is clear, and dry in most places. Then I see it! Steam rising from a gully on the side of the road. We must be getting close.
We are heading for Kusatsu, one of Japan's oldest and most beloved hot springs resorts. I had heard that Kusatsu was particularly famous for the extreme heat of its mineral-laden waters, and was hoping that we would see signs of that in the natural waterways of the area.
At the same time, we're making our visit in winter to give us a chance to enjoy another side of Kusatsu. Situated in northwest Gunma Prefecture, not far from Nagano Prefecture, Kusatsu is nestled in the Japanese Alps, which are known for their downhill skiing. And Kusatsu is home to some of Japan's earliest ski runs.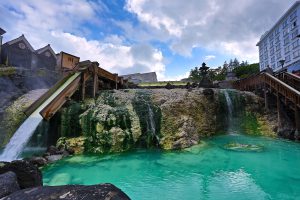 Kusatsu has over 100 years of downhill skiing history; the Kusatsu International Snow & Spa Resort dates back to 1914, making it one of the oldest in the country. Situated on the flanks of Mt. Shirane, the still-active volcano that helps heat Kusatsu's hot springs waters, Japan's first ski lift was built here in 1948.
Kusatsu offers some distinctive features of skiing or snowboarding. It has a continuous run of 8 km. top to bottom, one of Japan's longest. The top of the run, at 2, 171 meters above sea level, is steep and rugged, while the bottom levels out to be easy for beginners. Also, about one-third of the runs are above the tree line, making it almost like skiing on a glacier.
Kusatsu skiing is good enough to have spawned professional skiers. The Ogiwara twins, Kenji and Tsugiharu, Nordic World Ski Champions in the 1990s, are Kusatsu natives.
The top of the resort is best accessed by the Shirane Kazan Ropeway and another lift from there. There is a lift to the rim above a crater lake, but unfortunately, it is currently closed due to the increased volcanic activity of late.
Visitors can reach the lower ropeway terminal via the lifts from Tenguyama Rest House (elevation 1,245 meters), the lodge at the bottom of the resort, but we found it easier to get there on the free shuttle bus that runs hourly (roughly on the half-hour) from Bay 6 of the Kusatsu Onsen Bus Terminal, which also stopped at the Tenguyama Rest House.
If you're like me, you want to save money where you can while maximizing your fun. For a full day of skiing/snowboarding, consider investing in the combination lift and ropeway ticket. Other special discounted tickets to look into include a combination lift ticket and lunch coupon (through February 28), seniors day discount every Wednesday (through April 5) for those over 60, ladies day discount every Thursday (through April 6), kids day discount on the third Sunday of the month (through March), and "one coin" (JPY500) night skiing (17:00 to 21:00) on the first and third Saturdays of the month (through March).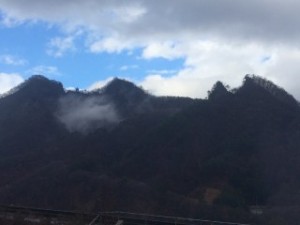 The resort has ski/snowboard gear to rent and offers ski and snowboard lessons for both adults and children. In keeping with the word "international" in its name, the resort is signposted in English, Korean and Chinese, as well as Japanese, and lessons are available in all those languages.
In the summer months, Kusatsu offers fine mountain hiking, so it was inevitable that snowshoeing would also become popular at Kusatsu. I confess this is my preferred winter sport.
The ski resort offers a few different snowshoe tours, depending on snow conditions. The tours (all necessary gear is provided–just dress warmly) range from 2 to 4 hours in duration and get into quieter, wooded areas offering spectacular winter scenery. Occasionally there is also the chance to see local wildlife, such as hares, foxes and even deer, if you're lucky. We only saw tracks.
At the end of a day of winter fun, we were pleased to have Kusatsu's wonderful onsen baths to thaw and restore. Kusatsu's water has particular healing properties especially useful apres ski. Show your lift ticket for the day to get discounted admission to Otaki-no-yu, Gozan-no-yu, or the Sai-no-kawara outdoor bath, three of Kusatsu's most popular public onsens.
For us, one day of winter sports was enough, but we found we could still enjoy Kusatsu's crisp mountain air by strolling around the town, which is nestled in a kind of bowl amidst the mountains. At the "center" of the town is Yubatake (hot water field), where 4,000 liters of hot water per minute comes out of the ground and is directed through sluice boxes to cool it. Streets (often, more accurately, narrow alleyways) radiate from here and are often lined with shops and eateries. We enjoyed ducking in and out of them to examine local foods and souvenirs, and generally to thaw out.
On the hill to the south, overlooking Yubatake, is Kosenji temple. (Careful when climbing the stairs in the snow! They can be slippery.) The temple has a couple of interesting structures, including a vermilion central worship hall reminiscent of a Shinto shrine, and a thatched subordinate temple with all kinds of vegetation growing in the thatch. We were fascinated by the small stone statue of Kannon, the Buddhist Goddess of Mercy, carved in the late 18th century. At the statue's feet, tucked inside her robe, we could just make out a basket of fish. It is said that the figure symbolizes a bodhisattva who spread Buddhism in China while posing as a fishmonger. There are a number of other interesting statues at the temple grounds, looking especially intriguing in the snow.
We also wandered downstream from the Yubatake and then circled back to the left, crunching along a snow-covered trail on the hill overlooking the town center. Here we found Shirane Shrine, serene and quiet among snow-covered trees, feeling like it was a world away from all the other winter activities of Kusatsu.
And with that shrine visit, our winter wonder experience of Kusatsu was complete.
Kusatsu Japanese Onsen Hot-Spring and Winter Snowsport resort by JI Core 50 consultant Vicki L. Beyer