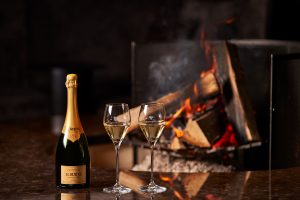 Krug was founded in 1843 in the city of Reims, France, by German-born Joseph Krug, and has since earned one of the highest reputations among the region's Champagne houses. The Grande Cuvée is their top bottling, which is composed of more than 120 different base wines from 10 different vintages, and this is the world class champagne that you will get to drink to your heart's content, in the newly opened "Room K" at bar hotel Hakone Kazan.
Besides the all-you-can-drink Krug Grand Cuvée, you can also enjoy a variety of other wines, whiskeys and cocktails, which will be served alongside a 10-course dinner, meticulously prepared to complement the flavors of your drink. After dinner, why not fully relax, unwind, and contemplate by dipping into your private hot spring while enjoying some freshly-cut seasonal fruits?
Nestled in the quiet, mystical mountains of Hakone, bar hotel Hakone Kazan is exactly what James Bond's private getaway might look like. If you are a lover of top-notch drinks and world class champagne, you won't want to miss this once-in-a-lifetime opportunity.
Reserve the "Room K by bar hotel Hakone Kazan" HERE.