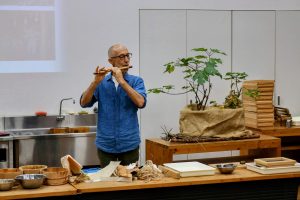 Recently, Jarman International helped Kamikoya Washi Studio get featured in the Sustainable Japan Times Gallery October edition (operated by the Japan Times). The gallery introduced an early October event in Tokyo, where Rogier Uitenboogaart, the owner of Kamikoya Washi Studio, taught children how to paint with washi pulp. 
Rogier has been hand making traditional Japanese paper (washi) for 40 years, and anyone can learn about the beautiful craft directly from him at his Kamikoya studio & guesthouse located deep among the glorious mountains of Yusuhara town in Kochi Prefecture. 
Congratulations to Kamikoya for being featured in the Japan Times! Check out the gallery HERE.
Learn more about Kamikoya HERE.