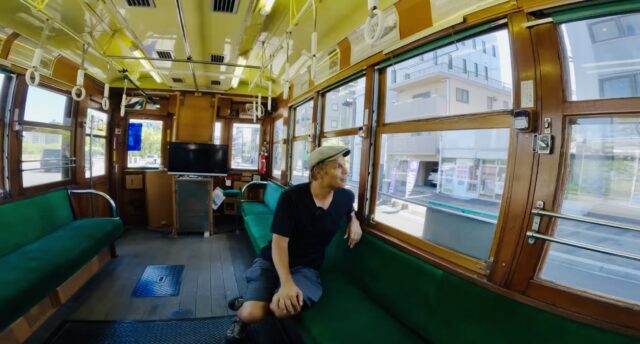 JI partner, popularly known as the YouTuber John Daub from "ONLY in JAPAN" has just published an enlightening and poignant new video on September 29th, titled "Hiroshima Atomic Bomb Train Experience & Survivor Story." The video promises to offer viewers a unique and personal perspective on the tragic bombing of Hiroshima during World War II, focusing particularly on the Hiroden, Hiroshima's public transportation system.
In the video, John Daub highlights the resilience of Hiroshima, a city that was almost entirely destroyed on August 6th, 1945, by the dropping of an atomic bomb. The catastrophic event wiped out 108 out of 122 street cars run by Hiroshima Electric Railway Co., Ltd., known as Hiroden. Astoundingly, within just 72 hours post-bombing, Hiroden had repaired three stations near the bomb's hypocenter and had resumed service to passengers by August 9th. 
In addition, John Daub embarks on a journey aboard Tram no. 653, the very tram that operated during the time of the bombing. Viewers also get an insight into Tram no. 651, which was derailed and burned out during the explosion, now fully restored and back on the streets serving the grandchildren of Hiroshima residents. 
Perhaps most compelling is John Daub's interaction with a then 14-year-old conductor, who survived the bomb and returned to work just three days after the devastating event. Now 92 years old, the survivor shares his invaluable account of the ordeal, offering viewers an unforgettable personal narrative that further illuminates the tragedy of Hiroshima during World War II.
By centering the story on Hiroshima's public transportation and those who kept it running, John Daub offers a fresh, engaging, and emotional viewpoint on the historical event. "It's an unforgettable story and a new way to learn about the tragedy of Hiroshima during WWII, through the eyes of its public transportation," the video description reads. For those interested in learning about world history, human resilience, and personal narratives from historical events, "Hiroshima Atomic Bomb Train Experience & Survivor Story" by John Daub is undoubtedly a must-watch.
Be sure to check out the full video on the "ONLY in JAPAN" YouTube channel for a deep and informative exploration into Hiroshima's atomic bomb history, a tragedy that still resonates today.