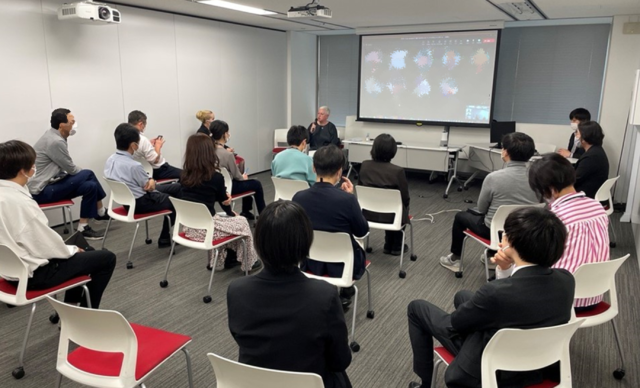 In March 2023, Jarman International was honored to be invited to speak at a series of seminars held by client company, Cosmo Energy Holdings Co., Ltd., as part of their DX and Internationalization Forum.  The forum kicked off with a session led by JI CEO, Ruth Marie Jarman, which was followed by two seminars spearheaded by JI Core 50 consultants, Melanie Brock and Violet Pacileo.
In these times of drastic change, companies, organizations, and their employees are being forced to undertake a variety of shifts, such as globalization, changing work styles, embracing diversity, and digital transformation (DX).
To empower Cosmo Energy employees to respond quickly to this new era in which existing values and business models alone will not suffice, the three JI members spoke on the theme of "Drastically Changing Japan and the World: Tools to Boost Your Ability to Respond to Change," with a focus on communication, diversity, and the ability to take action.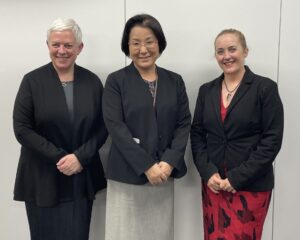 In the first session on communication, Ruth highlighted the current state of globalization in Japan, the country's strengths as viewed from an international resident's perspective, and how to improve your communication skills by putting thoughts into words.
In the second session on diversity, Melanie spoke about how to recognize and respect the diversity of individual employees and customers as well as the subsequent benefits of doing so, keeping in mind that diversity encompasses various differences, including age, gender, race, and neurodiversity.
In the third session on the ability to take action, Violet focused on how to motivate yourself and lead others when taking on challenges – an indispensable skill to have in times of drastic change. During her talk, she also touched on the unconscious bias that employees should be aware of when taking on new challenges, while sharing examples of the different activities that she herself has undertaken. This session was highly interactive since it was the last one in the series and the content was partially linked to the themes of the previous two seminars, with Violet receiving many questions from participants.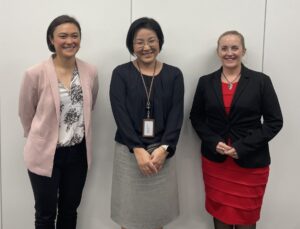 Ms. Noriko Rzonca, Chief Digital Officer (CDO) of Cosmo Energy Holdings, shared some opening remarks during the forum's first session, where she emphasized how having such a powerful lineup of female speakers who embodied the theme of the forum serve as guest speakers was a wonderful coincidence given that International Women's Day (March 8) fell during the seminar series. We are truly grateful to have been given the opportunity to take part in this important event.
We hope that the forum helped Cosmo Energy employees develop an international mindset and be better equipped to respond to the era of drastic change, and that they will apply what they learned in each session to their work and daily lives.
We look forward to their continued success in the future!