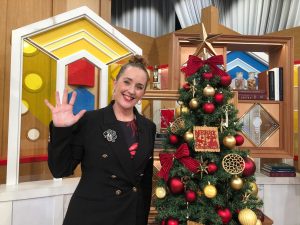 For her celebratory fourth time, Jarman International CEO Ruth Marie Jarman will appear on the nationally-beloved TV show called "Sekaiichi Uketai Jugyou (The Most Useful School in the World)" on Christmas night from 7 PM. 
The show will be a 2-hour special, and in her segment, Ruth will once again share more interesting information about what makes Japan so unique compared to the rest of the world. From the country's delicious agricultural products and the breathtaking 1km-long Chichibugahama Beach in Kagawa Prefecture, to the convenient and high-tech functions of Japanese elevators, this show will be yet another eye-opening lesson about Japan's wonders. 
As everyone knows, I have made the choice to focus on all the good in Japan and concentrate most of my energy there (both in business and my private life). Somehow positivity is in my DNA and I find myself focusing on the positive no matter where I go. I believe that finding the positive is not naive or idealistic and that it can actually be much more difficult than people think. So, if a positive attitude and the energy of love can bring a smile to even one more face on Christmas night I am all in. My beautiful broach was made by my great friend and artist Yoko Inada. I felt courage just having it on my jacket. Getting the Japanese right, the pressure of keeping my nerves controlled, the embarrassment about how I look and sound on TV… there are so many reasons NOT to do this. But, if a laugh happens or someone feels more excited about the New Year because of something I say…it is all worth it. Love Wins!
Here is an interview with Ruth about her fourth appearance on the show (Japanese): https://dogatch.jp/news/ntv/ntvtopics_108331/detail/?fbclid=IwAR3w3UvhbhDTqj9_hptWNGE6UlnE29I5_ZNna0pjwoQx0vQfVUeYZpSMnIE
In case you miss the broadcast, you can also watch the show online for over two weeks from the following page: https://tver.jp/corner/f0075882
"Sekaiichi Uketai Jugyou (The Most Useful School in the World)" official website (Japanese): https://www.ntv.co.jp/sekaju/