Beach Muffin in Zushi
Zushi, along the Shonan coast, is a well-known beach town noted for its relaxed, laid back, slow-paced lifestyle. And there's no better to place to experience its charm then at Beach Muffin, a small bakery/cafe and local craft beer tap room located minutes from both the city's train stations.
It's small to be sure, its interior reminding most who go there of an old converted house. There are a few plush chairs to sink into, as well as several wooden tables where you can enjoy Beach Muffin's excellent food and drink.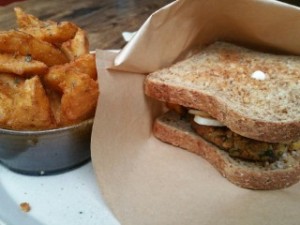 Their 100% vegetarian menu features a one-of-a-kind veggie burger, a homemade tofu enchilada, red chili and rice, and a bagel with tofu that "tastes like tuna". You can also order sides like their "voted best in Japan fried potatoes" (they are incredibly tasty), homemade vegetable soup, and nachos. Seriously, Beach Muffin's food rocks; everything is prepared fresh, on site.
Best of all, whatever you order can be wonderfully paired with any of the craft beers (compliments of Yorocco Brewing, also located in Zushi) that they serve on tap. Non drinkers can choose from a variety of organic teas and coffees or freshly-made smoothies.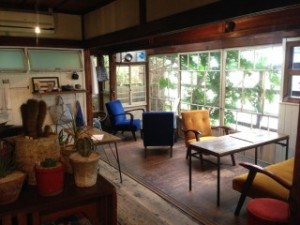 Beach Muffin is an absolute must for beach and beer lovers. It's a great place to sit back and relax by yourself, or while enjoying good conversation and grub with friends. If you're ever in the area, definitely make it a point to stop by.
*Article by Lee Reeve, originally published on Deep Japan
————-
Deep Japan – Experienced Senpai living in and enjoying Japan offer inside-knowledge on how to make your trip real, interesting and above all, unforgettable.
Join the Deep Japan Senpai Team – Anyone currently living in Japan for a year or more who can write tips for visitors in English is welcome to register on Deep Japan as a writer.