One of Jarman International's partners, Bar Hotel Hakone Kazan, was featured on Travel + Leisure, which is one of the most popular travel magazines in the world. Although Travel + Leisure is based in New York City, it covers destinations across the world. All the way from hotels, restaurants and national parks, to tips on budgeting, packing, immigration, and more, Travel + Leisure provides insightful information to over 4.8 million readers worldwide.
The main bar (there's also a self-serve lounge) is a sultry stunner. Behind a 13-meter-long teak counter, a picture window shows Mt. Sengen by day and the illuminated boughs of the garden's cherry tree by night. The armchairs arranged in pairs along the counter appear like thrones in the dim lighting, each couple well beyond the pool of light cast for its neighbors, creating a curious feeling of privacy. Lounge chairs and banquettes around a marble-ringed fireplace also provide places to canoodle, while the gentle aroma of wood smoke and the softly dancing flames create a soothing ambiance. 

– Jessica Kozuka (Travel + Leisure)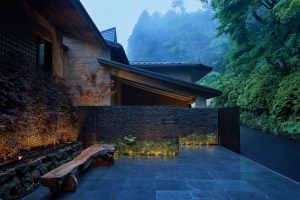 The Travel + Leisure article that features Bar Hotel highlights a range of accommodations in Japan that are reinventing the defintion of a traditional ryokan inn, with a particular focus on serving top-notch original drinks at a chic bar. The article highlights Bar Hotel's range of drinks, including intriguing creations such as "a boulevardier made with a bourbon washed with Ashigara beef fat and garnished with a charcoal cheese tuile and whitebark magnolia smoke."
We are very proud and honored to continue to help spread Bar Hotel's elegant charm to the world. If ever you are in Hakone, just under two hours from Tokyo by train, Bar Hotel awaits.
Read the full article HERE.