The lines were blurring the moment I entered through grand doors fashioned from oak, and met Ryuichi Yanagi, a bartender role-playing as a receptionist. His front desk was a droll creation: a posh leather writing mat and fancy brass pen plonked, for the duration of the Champagne-fueled check-in process, on one end of a 13-meter teak bar counter.
In November, one of our partners, Bar Hotel Hakone Kazan welcomed Nicholas Coldicott, an author who has written extensively about Tokyo's drink and food scene across a variety of platforms including Conde Nast Traveller and Time Out Tokyo. Now, he has published a beautifully expressive and deeply insightful article on the Japan Times about his experience at Bar Hotel – a chic, James Bond-like lodge nestled in the glorious mountains of the famous hot spring town, Hakone.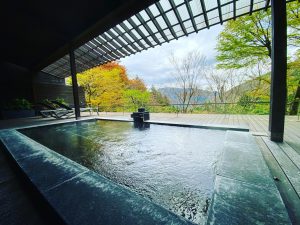 Around this time, my friend opined that the bar/hotel was the best bar and best hotel we had been to. "I can relax here," she said. "Not like in those hoity-toity places." That's more damning of her than those places, but her point was this: The bartenders are skilled at scaling their presentations up or down to suit their audience. Nobody felt intimidated, nobody patronized.
Check out the article, and join Nicholas on a journey of surprise and delight at Bar Hotel Hakone Kazan: https://www.japantimes.co.jp/life/2022/01/09/food/bar-hotel-hakone/