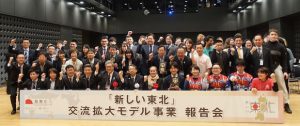 JI CEO Ruth Jarman serves as an expert on a panel of three for the New Tohoku Initiative.
This initiative aims to support Northeast Japan's revival and reconstruction following the devastation of 3.11.2011.
CEO Ruth Jarman is committed to offering good advice and participation in promoting the Tohoku area to the international market. CEO Ruth Jarman is pictured here with Deputy Reconstruction Minister Tachibana and other New Tohoku initiative participants.
The New Tohoku initiative is part of the effort by the Reconstruction Agency to help local entities create tours and activities in Tohoku for international visitors.
Ruth and the JI Team are committed to offering good advice, feedback and participating in reviews, etc., to help make this effort as successful as possible.
We at Jarman International hope more and more international visitors will consider visiting this beautiful and historically rich area of Japan. Oh, and the local products and seafood are great too!