Tourism, Deep Japan, A Free Tech Report, Paid Consulting Opportunities in Japan, and more; Hello from Ruthie and the Team at Jarman International!
Photo (Kusatsu Onsen) © Aron Kremer
Content by Lee Reeve
In this month's JI Japan Report:
★Free Tech Report from Nikkei BP (Why you might want to take a look)
★Tourism stats and on-site News on How this Affects us In Japan
★Serviced Residence Opening at Hotel & Residence Roppongi
★Interesting  Work/Project/Consulting Opportunities for you
★FREE TECH REPORT FROM NIKKEI BP
Interested in Japanese Automotive Technology? Here is s free report for you from Nikkei BP
---
As we've mentioned before, Nikkei BP is an excellent resource for technology info in Japan. Japanese, specialized, and full time tech writers at Nikkei BP are able to get views on the industry you wont find in any other publication. These for purchase reports are translated by tech specialists and samples are ready for your perusal.
A free report on CFRTP
is also available for you to test out the value of these great reports. Easily purchased via PayPal.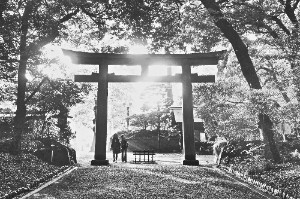 ---
★TOURISM STATS AND ON-SITE NEWS ON HOW THIS AFFECTS US IN JAPAN
 
The numbers just keep getting bigger and bigger. The number of tourists flocking to Japan, that is. Back in May it was widely reported with much surprise and fanfare that Japan's tourism boom was in full bloom, with another record in April of 1,764,000 foreign passenger arrivals. That number, up 43.3 percent from a year earlier, was a record high for the third straight month. Reasons for the sharp increase were attributed to a weaker yen, cherry blossom season, and new government policy measures, including widening the range of consumption-tax-free products.
What's absolutely incredible, however, is that the number of records being broken is just keeps getting higher. Since May, the Japan National Tourist Organization (JNTO) has reported staggering figures. In June, up 49.6 percent from last year with 1,641,800 foreign tourists. In July, up 51.8 percent from last year with 1,602,000 foreign tourists! The accumulated amount from January to June has reached to 9.14 million, up 46 percent from 2014. How unbelievable – and wonderful – is that!?This kind of great news gives many people here hope for Japan's economic growth, with the Japan Tourism Agency also reporting over 18,500 shops are now registered with the government to sell consumption-tax-free products to foreign visitors, including luxury brand goods to food and cosmetics. And now that the major cities of Tokyo, Osaka and Nagoya are seeing revenue growth, the government can now focus more on the struggle to attract more foreign visitors to rural areas, which Prime Minister Shinzo Abe has pledged to revive with stimulus programs.
It's been a boon to retailers, to be sure, but other sectors are beginning to see opportunities for rapid growth and expansion. Take, for example, construction. Record tourists to Japan have been testing the ability of hotels to accommodate them in an industry riddled by high costs, forcing developers to think outside the box for ways to quickly increase lodging options without going broke.  With the government is aiming to attract 20 million visitors by 2020, when Tokyo hosts the Olympics, it's a frightening thought to Tokyo hoteliers that, according to STR Global, a research firm for the hotel industry, only a mere 7,600 rooms have been scheduled to be added in the next three years to the now existing 100,000 rooms.
This snail's pace of growth is due to expensive land prices and construction costs, so Tokyo businesses are now instead converting old office buildings into hotels with tiny but stylish rooms that can rent for under $30 a night, less than half the rate for a cheap business hotel.
According to Tomohiko Sawayangi, managing director for Jones Lang LaSalle in Tokyo, "The market for this type of hotel is still tiny, but it has potential to grow bigger in major cities where hotel demand is strong."
Speaking of construction and the Olympics, it's mind-boggling all the work that still needs to be done before the games arrive. With the revitalization in Tohoku still a major petition from the general public, there are simply not enough people, construction companies, and sub-contractors to go around. It's going to take some divine intervention or, more realistically, international aid and cooperation in the form of overseas construction companies to make things happen before the final deadline.
Japan also still has to worry about the declining population and the negative effects it's already heaping on the country. One terrible example is the swelling mass of ghost homes in and around Tokyo suburbs. Compared to garden blight, discarded homes – some eight million, by government count – are spreading throughout Japan. Nearly half of them have been forsaken completely – neither for sale nor rent, they simply sit there, in varying states of disrepair.
The ever-growing problem of "When a society shrinks, what should be done with the buildings it no longer needs?" needs to be addressed immediately.
---
Our Entrepreneur This Month is Nicolas Soergel By Petra Canan Trudell, Tokyo: For a lot of people, marrying into a successful family business would be a kind of relief. Joining an established company, no matter the size, can provide a sense of security. But for Nicolas Soergel, the last thing he plannded to do when he relocated to Japan with his wife, Takako Komine, was to join her family business, Chinriu Honten Limited, read more….
---
Deep Japan Senpai Aron Kremer, Austin Auger, John Lawrence and Ruthie Jarman Shiraishi were keynote presenters at Kusatsu Onsen's International Forum produced by JTB. They spent three days canvassing this beautiful location and then gave a speech and panel discussion about how Kusatsu Onsen might better promote strengths to the international community. It was a wonderful experience for all involved and everyone agreed that locales across Japan need to understand their specialty and get it out to the world.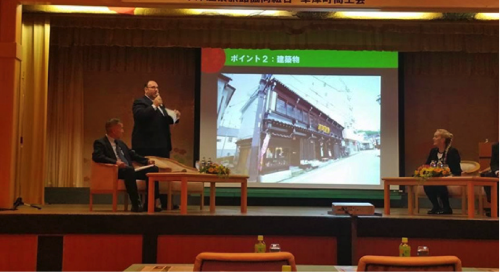 ---
H&R Roppongi – Serviced apartment Availability
When you come to Tokyo for a longer stay, consider using one of H&R Roppongi's serviced apartments instead of a hotel room. The apartments come fully furnished and equipped and are available to rentfor a minimum of one month.With both hotel rooms and serviced apartments in this historic building, guests can use their restaurant and take advantage of their multi-lingual staff, available 24/7. Enjoy the boutique design of H&R Roppongi's rooms and explore the city from their convenient location in Roppongi. Here is some availability info we received yesterday.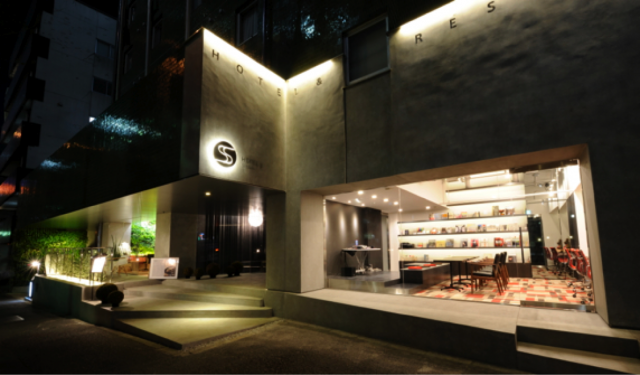 Serviced apartment #1105, Superior Type, 22.57 square meters
Room details at
http://hr-roppongi.jp/en/sa_room/superior/
Available from October 2nd
Total rent: ¥252,000 Note: Breakfast is not included in this rate but this rate has no tax applied. The apartment is not large, but it will be comfortable and you'll have a 24/7 bilingual concierge, use of the business lounge, etc. at your service. The entire building has free Wi-Fi service, too.
Concierge details at
http://hotel-residence-roppongi.com/hotel-s/concierge-services/
---
★Interesting Work/Project Opportunities for you Osaka/Kyoto:
Calling for two native level English speakers in Osaka and Kyoto (two from each locale) for a writing project. Write comments on locations (100 to 200 words for about 15 popular spots) and receive 2000 yen per comment as well as transportation cost support in case you need to visit. This can be done from a memory of visiting the spot, written from home and on your own time.
Tokyo:
-Calling people from the UK for a consulting project. Participate in a meeting about how to make visitors from the UK happier (about two hours with a tour of the hotel). The stipend is 15,000 yen, location in Hamamatsucho.-Calling anyone from the US who is interested in horseracing for a consulting project.
Try out an event at the Tokyo City Keibajo and give your opinions on how things could be improved for international visitors. Not sure of the stipend yet, but should be a fun thing to do!
-Calling three people for an inbound consulting project meeting (one hour). A total of three participants (from the US, Canada, Australia or Europe) to join in a meeting to discuss what they think of travel in Japan, places they want to visit, etc. This meeting will be held in Harajuku and it would be best if you could converse in Japanese. The stipend for this project is 10,000 yen including travel expense.
If you want to do this or know someone who might, please contact
Please note that all these opportunities and more come from Deep Japan. You can sign up as a writer and also be privy to project postings by registering to be a Deep Japan senpai here 
---
Our Favorite Place to Relax: Enoshima Island Spa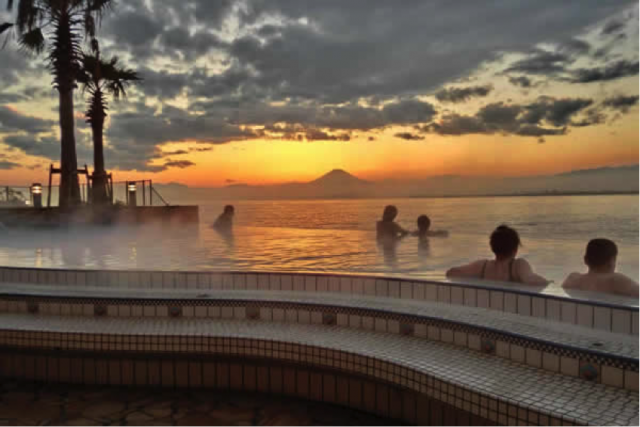 ---
Things to do this autumn: Across the Country
Okayama Prefecture's Top 10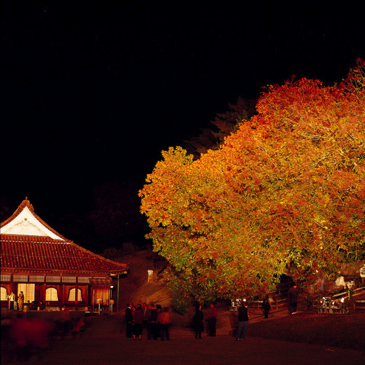 Whether it's pottery festivals, bike trails, grape picking or hot springs, Okayama Prefecture is brimming with things to do in autumn. 11% of the total land area in Okayama has been designated as Natural Parks, and there are over ten of them to enjoy. Deep Japan senpai,
Andrea Miyata
, has compiled a list and written an informative article of her top 10 things to do there.
Click here to read the full article.
Asakusa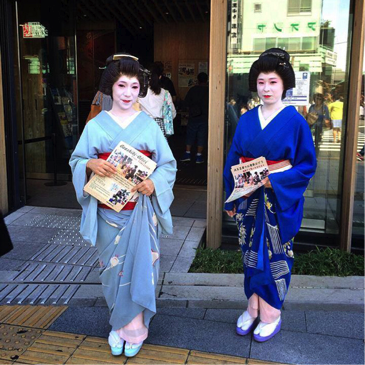 If you happen to be in Tokyo's Asakusa district, September is rife with seasonal life and activities. Deep Japan Senpai,
Keiko OTT
, shares with us her ideas of how you can make the most of the month in one of the most popular tourist destinations in Japan.  
Click here to read the full article
.
---
You can sign up to receive our monthly newsletter full of latest news from Japan from
here
!