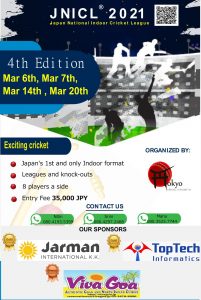 At Jarman International, we are always looking for ways to support any effort that brings Japan and the world closer together. In this case, we are delighted to help bring diverse communities together through one of our favorite sports…Cricket!
Cricket is England's national summer sport, which has gained immense popularity across the globe, particularly in Australia, India, Pakistan, the West Indies, the British Isles and now Japan, thanks to the Tokyo Cricket Association (TCA). This is the fourth year that the TCA is hosting the Japan National Indoor Cricket League, which is being held until the end of this week.
We would like to thank the TCA for letting us support their efforts in bringing people together through sport!