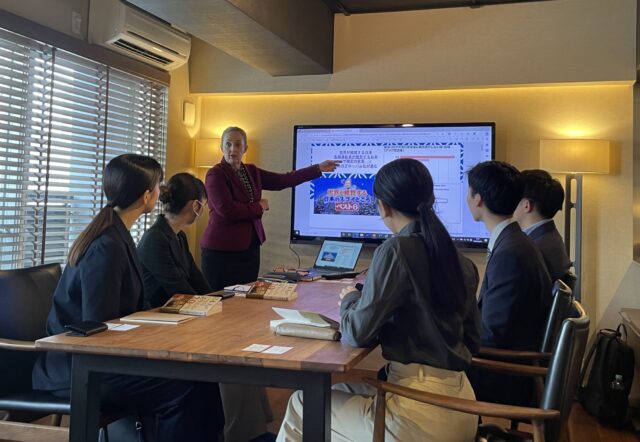 On May 1, 2023, Jarman International was honored to lead a one-day training program for five newly-hired employees of client company, Hotel & Residence Roppongi (HRR). Centered around the topic of "Japan's Globalization Efforts and Improving Your Ability to Respond," the day was designed to:
– provide new hires with a true sense and grasp of Japan's globalization initiatives and how they affect the hospitality industry, including HRR
– foster a positive attitude toward change and internationalization and a willingness to face it head on
– offer employees a chance to analyze their teamwork skills and learn about the importance of communication
The training kicked off with a presentation and discussion led by JI CEO, Ruth Marie Jarman, on the current status of globalization in Japan, how to be a team player capable of hitting the ground running, and the three types of international visitors to Japan.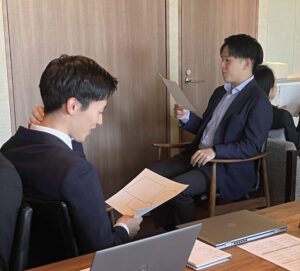 This was followed by three interactive sessions facilitated by JI Partner and trainer, Austin Auger, on how to identify your strengths and weaknesses (using the Belbin Team Roles Assessment), differences in communication styles (high-context vs. low-context) across cultures, and how to be a good listener and communicator to increase innovation and organizational capabilities.
Thanks to the enthusiasm and open-mindedness of all five participants, the day was a tremendous success.
Committed to helping companies, government agencies, and local municipalities in Japan access the global market, JI offers globalization training as part of our regular consulting and training service lineup.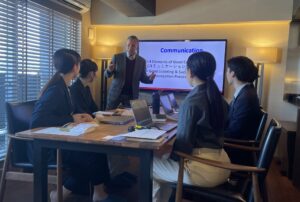 If you would like to discuss how we can support your business's training needs and ensure that your employees can thrive as Japan continues to globalize, feel free to get in touch. We would love to hear from you!