Get a big helping of history by the coast
The Shonan coast has a lot of history behind it, and it is bustling with fun and activity these days, making it a great tourist destination for Japanese and international visitors alike.
We had a great firsthand experience of what could be considered a "typical" day on the coast at Enoshima. We began the day arriving at Katase-Enoshima station, where we could instantly see the beautiful Shonan coastline. Instead of heading directly over the bridge to Enoshima, we decided to take a small walk to the nearby temple "Ryukoji", literally the "dragon-mouth temple".
Here, we took the opportunity to participate in a regular activity they offer at the temple: "Shakyo", which is basically tracing the Kanji characters in long buddhist chants.
This was a very unique experience for us. You clean your hands prior to writing, and you have the option of using a marker pen, or using a dry brush which you dip in charcoal ink repeatedly to trace the characters.
Upon completing the list, you write your wish at the end along with your name and the date, and the scrolls are actually then gathered to be burned at the end of the month!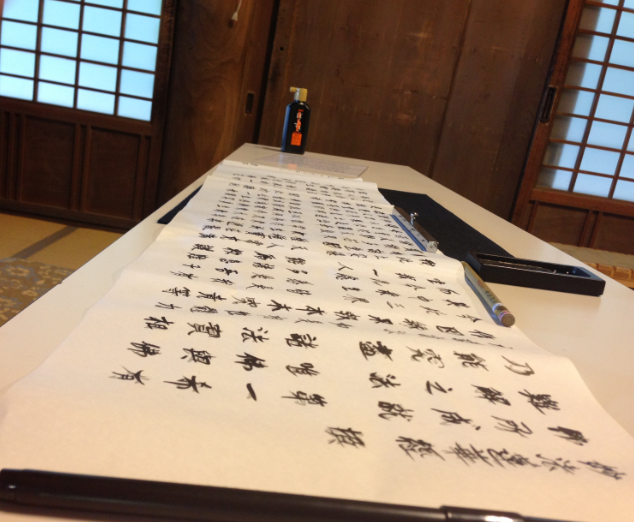 After this, we were lucky enough to be invited into the main buddhist priest chamber for a special opportunity to participate in a chant, but not before passing by the "Go-shu-no-tou" which is a five-story pagoda. This one happens to be the oldest in all of Kanagawa prefecture, and with only very slight repairs over the years, was made entirely with no nails! This traditional Japanese style of piecing wood together to make towers and houses is truly fascinating, and must be done with expert meticulousness.
The artwork and interior decorating of temples is always a sight to behold, but I had never actually been inside a room such as this in a temple. It seemed very homely, a place where even Buddhist priests in the modern day can devote themselves to study in solitude. The artwork and artifacts in the room added to the divine air, and just being inside was sufficient to calm the soul (not to mention make for an awesome cultural experience all around).
We sat and chanted the phrase which is said to be the summation of this sect of Buddhism "Na-mu-myo-ho-ren-ge-kyo", and basically translates to believing with the entirety of your being. Chanting this over and over in this setting was almost surreal and left me feeling a bit more whole.