We are happy to announce that Jarman International was able to have Enoshima Island Spa featured in a full-page advertisement in the National Geographic Traveller's UK edition for June 2019.
As Jarman gains recognition for our marketing and promotion work for wonderful hidden gems in Japan, we have started to receive excellent and special offers from world renown publications.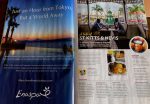 We hope to continue providing well-selected and utterly effective opportunities to our clients from our growing network of publications and websites around the world.
Uncovering the right method to reach the right client is what we do best at JI.