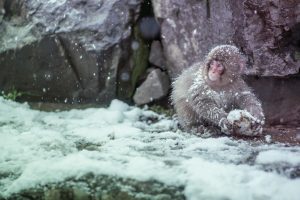 Have you ever visited the hot spring-loving snow monkeys in Nagano prefecture?
When Jarman CEO, Ruth Marie Jarman, visited them recently, she was inspired by their curiosity and wondered how they may have noticed their world change. From hundreds of visitors a day to only a few. From visitors wearing big smiles to those whose expressions can no longer be seen, hidden by face masks.
Escape into a magical fantasy in Ruth's new short story and explore the world through the innocent eyes of a baby snow monkey in Nagano prefecture HERE.
---
Important announcement for all non-Japanese passport holders! For travel to Nagano Prefecture to see the snow monkeys (and anywhere across Tohoku), we recommend you take advantage of the JR EAST Welcome Rail Pass 2020!
Until now, JR Rail Passes have only been available to tourists visiting Japan. However, this year, JR EAST created this new, foreign resident-friendly pass to give members of Japan's international community a budget-friendly way to explore the Tohoku and Kanto regions, as well as provide an alternative to international travel.
This pass will allow 3 consecutive days of unlimited travel on the Tohoku, Yamagata, Akita, Joetsu and Hokuriku Shinkansens, along with JR EAST train lines and a number of local railways. As it is valid for a large area of Japan, pass holders will be able to explore from the northernmost reaches of Aomori to the hot spring resorts of Shizuoka, just south of Tokyo, for a flat 12,000 yen fee (6,000 yen for Children).
★For more information about the JR EAST Welcome Rail Pass 2020 and where to purchase it, please click HERE
★An article about the pass has been published on JAPAN TODAY