This spa was the perfect getaway after long trips I had endured around the whole of Japan. After travelling to Hiroshima, Kyoto and Osaka this place really chilled me out. It is great for many reasons and not just one. The all-inclusive unique hot springs, three different pools, various themed massage/relaxation rooms is what makes this place worth the money and time for the ideal weekend getaway. It is a fantastic tourist destination and the person who wants a break from Tokyo city life. With only an hour and a half away from Tokyo, Shinjuku, Enoshima Island Spa is a very accessible and practical choice which overlooks views to the famous Mount Fuji on a clear day. My favourite pool was the infinity pool, which looks over the sea and the mountains in the back, a rare view indeed. Sometimes it's just lovely to think and take in your environment and thoughts in a tranquil environment such as this. The pools in the cave were very different and distinctive; I have not seen anything like it anywhere. At night, it really is a spectacular experience that you will take away with you.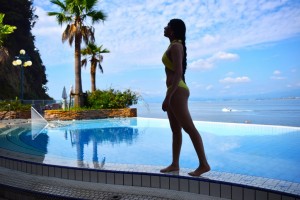 The hot springs were definitely something new to a westerner like me, the lovely staff who escorted me around had told me most westerners where apprehensive about entering the hot springs as you must be naked but for the Japanese women this is a very normal. They have a very open, 'non-phased' attitude which I admired. I have never been naked with other women before or any kind of environment for that matter and it was a liberating experience. No woman looked at another in a weird, unusual way and was completely normal setting. I was kind of overly joyed when a kind Japanese lady had told me I was beautiful, considering she had seen me naked it was definitely a kind sentiment. I always take a compliment from a woman way more seriously, guess my dieting paid off. The massage was one of the best I have received, the room was filled with lotus flowers and the luxury finish of the rooms were exquisite.
Please click here to read the full article, containing a complete list of beautiful photographs!
Original article published on MERMAID LAGOON, by Sasha Wilson
* Enoshima Island Spa is device free so that all our VIP guests can enjoy utmost privacy and peace of mind. The shooting was done before the spa opening hour as special arrangement.