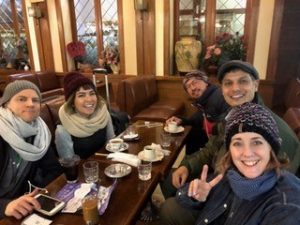 Jarman CEO, Ruth Jarman, was joined by Todd Porter of EdgeOf, John Daub of Only in Japan Go, Nina Cataldo and Jaya Thurston from Tokyo Llama on a consulting visit to Sado Island.
Within our long term contract with Earth Celebration and Sado Island, we hope to bring game changing creators to this amazing microcosm of all that makes Japan so wonderful and attractive to international visitors.
Topics of conversation and exploration included how to meet the challenge of Akiya in the Aikawa area of the island, promotion of the NOVA tour for Kodo and well, just getting know more for the great people who live on the island.