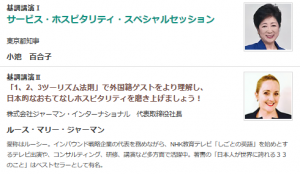 Jarman International CEO, Ruth Jarman, is honored to join Tokyo Governor Koike Yuriko as one of the two keynote speakers at the 22nd Annual Customer Support Symposium 6th Annual Service and Hospitality Symposium to be held on September 19 and 20 in Tokyo.
Ruth will focus on providing ideas about how to improve hospitality and services for international visitors in light of upcoming international events like the Rugby World Cup and Tokyo Olympics Paralympics 2020.
We are honored to share the stage with a highly respected, innovative leader like Governor Koike and we hope to learn much about ways we can assist further to help with Japan's smooth transition into a new age of international inbound travel to Japan.