The traditional Japanese tea ceremony is one of the best examples of "omotenashi," or Japanese hospitality. It's a beautiful demonstration of welcoming and a truly signature Japanese experience. At Ginza Chazen, visitors can learn all about the traditional tea ceremony and how matcha tea is prepared.
As soon as you enter, you're greeted by the tea master, who shows you every step of the process. After watching a video that explains the proper flow and etiquette of the ceremony, you clean your hands to prepare yourself to make and enjoy the tea. Next, dried tea leaves are ground to make a fine, bright green powder. The beauty of matcha is how simple it is — just the ground leaves and hot water — elevated by the precision and elegance of the ceremony.
Once you enter the tea room, the tea master cleans all the utensils used to make the matcha. After that, she prepares one cup of matcha at a time for each guest. While the tea is being made, you're invited to enjoy some traditional Japanese sweets. Each is truly a work of art in itself.
After each guest has been served their tea, it's time for them to try their hand at making a cup of matcha. The tea master provides step-by-step guidance to walk you through it.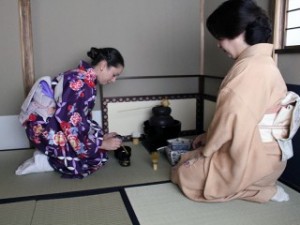 The ceremony doesn't take very long, which makes it an activity worth checking out while you're in Tokyo. Afterwards, you can go next door to Kabuki-za or do some shopping in Ginza. The environment is warm and welcoming and I look forward to taking guests back in the future.
Ginza Chazen
Cost: 3,500 yen per person
Address: 5F Ginza Ishikawa Bldg., Ginza, Chuo-ku, Tokyo
Call for Reservations: +81-3-6264-0690
*Original article by Petra published on Deep Japan
Deep Japan – Experienced Senpais living in and enjoying Japan offer inside-knowledge on how to make your trip real, interesting and above all, unforgettable.
Join the Deep Japan Senpai Team – Anyone currently living in Japan for a year or more who can write tips for visitors in English is welcome to register on Deep Japan as a writer.