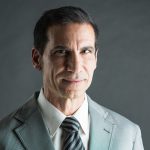 Nationality: American
Time Living in Japan: 30 years
Employer(s): Big Picture International
Current Job Title: President & Representative Director
Area(s) of Expertise: E-commerce, market entry to Japan, business strategy, business development, marketing, media and entertainment, advocacy
Education: Bachelor of arts degree from Rutgers College
Publications Featured In: ACCJ Internet Economy White Paper
Favorite Thing About Living in Japan: Friendly and welcoming people.
Favorite Place to Visit in Japan: Karuizawa
BIO: Marc Fuoti is an entrepreneurially minded international business executive with a results-driven but collaborative management style. As an experienced and successful business leader, Marc has focused on building effective peer and staff relations, developing exceptional talent and relentlessly pursuing innovation in every company he has been part of. He has also been equally focused on and effective at increasing profits in those organizations.
A socially oriented businessman with a love for world travel, Marc has 30 years of experience operating businesses in a multicultural environment in Japan including as a Senior Vice President at McCann-Erickson and Twentieth Century Fox and Managing Director at Universal Pictures Japan. Marc has worked throughout much of Asia-Pacific including China in a regional capacity and has managed business development, marketing, and strategic planning functions. At McCann-Erickson, Marc also served on its board in Japan.
Since October 2005, Marc has been running his own consulting firm, Big Picture International K.K. (BPI), and working with large corporate clients such as Universal Pictures Japan, Microsoft, Qualcomm, HMV, and the Motion Picture Association as well as a number of innovative technology companies, startups, and early-stage ventures. BPI's primary services include business strategy, business development and market entry to Japan, including entry via e-commerce.
Naturally gregarious and outgoing, Marc has been an active public speaker at conferences, trade shows, and other public forums. He sees his professional career as an integral part of his overall life, seeking challenges, growth, and fulfillment while bringing enthusiasm, energy and dedication to his work environment. Marc sits on the board of the FCSC, a Japanese charity supporting challenged children, and is a principal at Katerva, a US non-profit accelerating sustainable innovations. He is an American by birth but a world citizen in spirit and practice. He lives in Tokyo with his wife and son.
Recently Published Work
Marc Fuoti traveled to Kobayashi in Miyazaki prefecture on Kyushu island as a part of the consulting team for Jarman International to help introduce this region of Japan to the international market. The following is Marc's review,
Getting anywhere is Japan is relatively easy because it's a relatively small island country and the transportation network here is world class. Getting to Kobayashi in Kyushu, Japan's southernmost main island, was no exception. I flew to Kobayashi seeking quiet nature, a bit of adventure and healthy food.

After living in Japan for 30 years and having visited many of the most popular travel destinations, I find myself looking for uncrowded, out-of-the-way places like Kobayashi that retain traditional authenticity, charm and allure. Also, as a trail runner, trekker and amateur triathlete, I am always seeking out mountains and lakes to find cycling and hiking courses. I was pleased to find a great selection of these in Kobayashi.
Marc Fuoti is an avid cyclist who spent a few days on a consulting trip cycling in Kochi Japan. Marc went on this trip to Kochi prefecture with JI CORE 50 member John Houlahan.
Marc writes,
My three-day cycling tour of the pristine Shimanto River area started at 12:00 at the quaint Kabukura Shrine after a short, comfortable flight from Tokyo and 75 min drive from Kochi City.

The Shimanto River is one of the most remote natural areas in Japan. This first leg of our journey featured a hilly but not strenuous 50km (30 miles) ride that included sweeping sea views and vistas detailed with a rocky coastline.

Ukitsu Beach is a broad, sandy beach that has good amenities like picnic tables, changing room, bathrooms, and fresh water showers. This is a nice place to stop on a hot day, take a swim and shower off before continuing on a ride. The road along the ocean has a dedicated bike path along this section. The day ended with a delicious dinner at a fun Japanese pub and comfortable stay at the Shin Royal Hotel Shimanto.