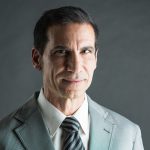 Nationality: American
Time Living in Japan: 30 years
Employer(s): Big Picture International
Current Job Title: President & Representative Director
Area(s) of Expertise: E-commerce, market entry to Japan, business strategy, business development, marketing, media and entertainment, advocacy
Education: Bachelor of arts degree from Rutgers College
Publications Featured In: ACCJ Internet Economy White Paper
Favorite Thing About Living in Japan: Friendly and welcoming people.
Favorite Place to Visit in Japan: Karuizawa
BIO: Marc Fuoti is an entrepreneurially minded international business executive with a results-driven but collaborative management style. As an experienced and successful business leader, Marc has focused on building effective peer and staff relations, developing exceptional talent and relentlessly pursuing innovation in every company he has been part of. He has also been equally focused on and effective at increasing profits in those organizations.
A socially oriented businessman with a love for world travel, Marc has 30 years of experience operating businesses in a multicultural environment in Japan including as a Senior Vice President at McCann-Erickson and Twentieth Century Fox and Managing Director at Universal Pictures Japan. Marc has worked throughout much of Asia-Pacific including China in a regional capacity and has managed business development, marketing, and strategic planning functions. At McCann-Erickson, Marc also served on its board in Japan.
Since October 2005, Marc has been running his own consulting firm, Big Picture International K.K. (BPI), and working with large corporate clients such as Universal Pictures Japan, Microsoft, Qualcomm, HMV, and the Motion Picture Association as well as a number of innovative technology companies, startups, and early-stage ventures. BPI's primary services include business strategy, business development and market entry to Japan, including entry via e-commerce.
Naturally gregarious and outgoing, Marc has been an active public speaker at conferences, trade shows, and other public forums. He sees his professional career as an integral part of his overall life, seeking challenges, growth, and fulfillment while bringing enthusiasm, energy and dedication to his work environment. Marc sits on the board of the FCSC, a Japanese charity supporting challenged children, and is a principal at Katerva, a US non-profit accelerating sustainable innovations. He is an American by birth but a world citizen in spirit and practice. He lives in Tokyo with his wife and son.
Recently Published Work