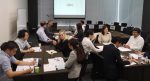 CEO Ruth Jarman and Head of 
Train to Globalize
, and Austin Auger participated as speakers, panel discussion members, and advisors in the
WizWe/Gplus Media international HR seminar
in Tokyo.
Via personal experience over 30 years in Japanese companies for Ruth and Austin's current experience as Country Manager for three international firms based in Japan, they provided HR leaders from Japan's megabanks, airlines, and IT firms among others with advice.
Garnered from their first-hand experience, Jarman and Auger discussed how to improve communication and care for both international and Japanese employees, as well as corporate partners.
This is an exciting time as Japan continues its exciting journey towards a more internationalized domestic market.