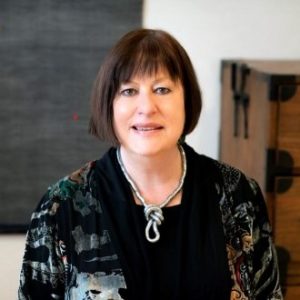 Nationality: New Zealand
Time Living in Japan: More than 30 years
Employer:Finsbury, a division of WPP Marketing Communications GK
Current Job Title: Managing Director
Areas of Expertise: Communications and public relations
Education: Bachelor of Commerce, (Hons), and numerous diplomas (Japanese language, etc.)
Language:Native English speaker, competent in Japanese
Favorite Thing About Living in Japan: Diverse opportunities to liaise with both local and global businesses, safe environment, excellent infrastructure and of course the food!
Favorite Place to Visit in Japan: Nikko in Tochigi. Lovely to walk around Nikko whatever the season and weather and experience the magical environment, learn about the history and culture. Mt. Zao in Yamagata – wonderful community and amazing skiing.
BIO:Deborah Hayden is Managing Director at Finsbury, a leading global communications agency in Japan. She brings over 30 years' experience in financial and corporate communications to Finsbury and is a widely recognized expert on communications issues in Japan and Asia.
She joined Finsbury in 2019 from Edelman Japan, where she was responsible for Financial, M&A and Capital Markets Communications. She played a significant role in evolving Edelman's capabilities in Financial Communications in Japan and the Asia Region, working on cross-border transactions, investor relations, corporate profile-raising and crisis management assignments.
Prior to joining Edelman, Deborah was Managing Partner at Kreab Gavin Anderson, a firm she was associated with since 1988.
Deborah is a vice-chair of the American Chamber of Commerce in Japan's Alternative Investment and Women in Business Committees, she is a senior advisor to the New Zealand Trade & Enterprise Beachhead Committee which advises companies on Japan market entry, and she serves as a community leader in her local community in Tokyo.
Hayden and her clients have received several awards for excellence in PR and public affairs. She holds a Bachelor of Commerce with Honours in economics from the University of Otago in New Zealand and has diplomas from Osaka University and Osaka University of Foreign Studies.